Along with the pilots, 434 cabin crew too have evaded the mandatory breath analyser test, which is to be taken both before and after operating a flight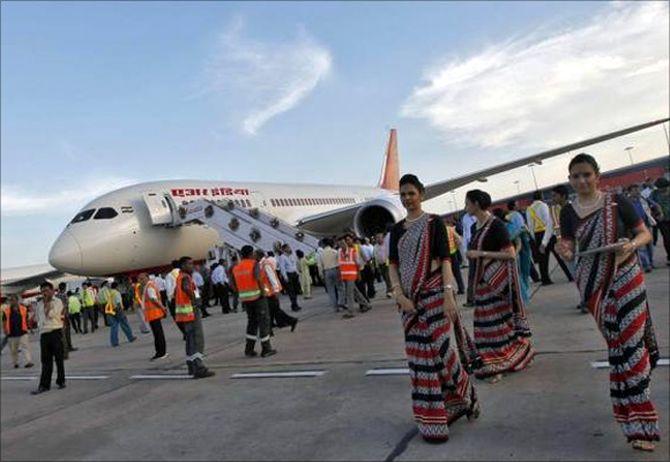 The Directorate General of Civil aviation (DGCA) is likely to ground over 130 pilots and 430 cabin crew members of national carrier Air India for allegedly skipping the mandatory pre and post-flight alcohol test.
These crew members had regularly been "evading" the breath analyser test over a period of time for flights to and from certain destinations such as Singapore, Kuwait, Bangkok, Ahmedabad and Goa, sources close to the development told PTI in Mumbai.
Aviation regulator DGCA has already served an ultimatum to the Air India management over the alleged safety violations by the airline's crew members ahead of its enforcement action, they said.
As part of the DGCA's safety regulations, all pilots and cabin crew must undergo breath analyser test before and after flights.
The queries e-mailed on Monday on the issue to Air India spokesperson went unanswered.
Notably, aircraft rules prohibit crew members from taking any alcoholic drink 12 hours prior to the commencement of a flight.
"The DGCA already brought it to the notice of Air India management that its 132 pilots and 434 cabin crew have evaded the mandatory breath analyser test, which is to be taken both before and after operating a flight. It is a safety violation and it (DGCA) is taking a suitable action against these crew members," a source said.
Since the grounding of such a large number of crew members could cripple the airline's narrow body operations, the DGCA is likely to enforce its action in a phased manner, said another source.
Significantly, the DGCA had in February suspended the flying license of Air India's then executive director for operations, Arvind Kathpalia, for three months after an internal probe found him "guilty" of skipping the breath analyser test for one particular flight.
Kathpalia is now head of operations and a Board member at the divestment-bound Air India.
Any crew member who tests positive in the pre-flight medical check or refuses to take a breath-analyser test is required to be taken off flying duty for at least four weeks and the airline is required to initiate disciplinary proceedings.
As per DGCA, 224 pilots and crew members of various airlines failed the test in 2016, whereas 202 pilots and crew members failed the test in 2015.
Photograph: Adnan Abidi/Reuters
© Copyright 2023 PTI. All rights reserved. Republication or redistribution of PTI content, including by framing or similar means, is expressly prohibited without the prior written consent.