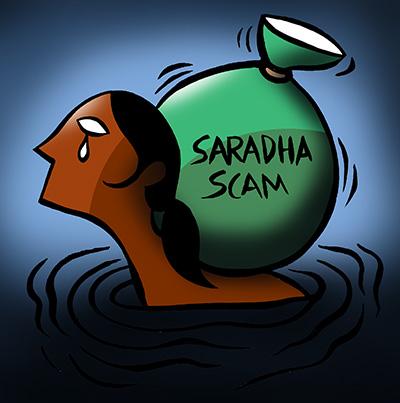 Since the Saradha group of companies went bust with its owner Sudipta Sen in police custody from 2013, its agents have been left penniless, homeless and have lost all hope of living a peaceful life. They are out on the streets, crying themselves hoarse for compensation.

One of them writes an open letter to West Bengal Chief Minister Mamata Banerjee for help.
To
Mamata Banerjee,
Honourable Chief Minister of West Bengal
Respected Didi,
First, let me congratulate you on your huge victory at the recent civic polls. Your achievement makes us proud.
I am overjoyed by the way you successfully built a friendly bridge of communication with our honourable Prime Minister Narendra Modi. I am sure your wise step will help improve the economy of our state.
However, amid this environment of peace and joy, a question haunts me all the time -- now that Mr Modi and you are friends, will it expedite the Saradha scam investigation or will the probe die a natural and somewhat predicted death?
Didi, there was a time when my family looked upon Saradha chief Sudipta Sen as a 'messiah' who turned our lives around.
But soon, our dreams lay shattered -- the Saradha bubble burst and from a solvent unit of happy individuals, we found ourselves up to our necks in penury.
I appeal to you didi, to help us tide over this disaster. We have nowhere to go. It's you alone who can help us!
Let me share with you in a nutshell the story of my life.
I married into a middle class family of Baruipur in South 24 Paraganas about five years back. My husband worked as an agent for Saradha and earned about Rs 12,000 a month.
In a rural set-up, his salary was considered a 'hefty' one and my parents could not have asked for a better groom for their daughter.
I was not rich but could afford to dream the usual dreams of a middle-class housewife.
My husband owned a two-wheeler and we would often take weekend trips in and around Kolkata.
Life never seemed better.
A few months after our marriage, my husband suggested that I should join his company and start working as a Saradha agent too.
I was unsure initially and could not make up my mind. But my husband was insistent.
After dinner, he started explaining what my job profile would be.
"Since we are planning to have kids soon, it will be necessary to have some extra cash in hand," he told me.
"But, I hear rumours about Saradha group of companies," I asked with concern.
"Don't fall for such idle gossip. I recently attended an agents' meet. I was dazzled by a show of pomp and glamour," he assured me.
Moreover, he said a state minister had anchored one such meeting and had vouched for the Saradha owner's integrity and professional skills.
His words comforted me and within a few days, I enrolled myself as an agent.
My initial salary was about Rs 10,000 and was hiked to Rs 12,000 in no time.
We were ushered into a land of dreams.
We could afford a four-course lunch and dinner and could have non-vegetarian meals four days a week.
My husband planned to sell off his two-wheeler and buy a Maruti Alto. We started saving for that.
At long last, we are going to be rich, I told myself.
Little did we know what was in store.
As months rolled by, we started hearing 'stories' about our company -- that Saradha's business was not particularly 'honest' and 'fair' and that its funds were fast drying up.
We felt uneasy but being eternal optimists thought the crisis would pass.
It didn't.
One fine morning in the summer of 2013, we heard that Saradha owner Sen had absconded with two of his trusted aides.
The sky fell on us. We were dumbfounded.
We did not know how to face all those innocent villagers of Baruipur who invested their hard-earned money in Saradha through us.
We had no clue how to repay about Rs 17 lakhs (Rs 1.7 million) that we had collected from our clients.
What will happen to the Rs 200,000 that my husband had invested from his own savings?
We felt helpless. We couldn't even cry. Our tear glands had dried up from shock.
Didi, when your government set up the Shyamal Sen Commission to compensate the agents and investors, we hoped to recover some money.
But till date, we got only a pittance and could not pay back even a third of our clients.
At our village home, we have been tagged as defaulters, didi.
We are luckier than our colleagues, though.
Since my in-laws are old residents of the area, our clients have only hurled abuses and not beaten us up or threatened us with dire consequences.
We feel so ashamed, didi.
We are tired of fighting with insults on one hand and poverty on the other.
I gave birth to a baby girl in early 2013 but I wish she were not born.
For, now we can't even buy milk for her every day.
She cries of hunger all the time.
My husband now works as an accountant at a grocery store and earns a meagre Rs 3,000 a month. I make and sell paper packets from old newspapers.
From earning Rs 24,000 to 30,000 a month, our household income now stands at Rs 3,500 only.
Didi, let alone buying a four-wheeler, my husband recently had to sell off his motorbike to pay back one of his clients who had invested about Rs 20,000.
Didi, we have heard you are a brilliant painter and that your creations fetch millions.
I plead with you, didi, to hold an exhibition of your paintings. I am sure they will find rich buyers.
Didi, can't you share a part of the earnings from the sales to pay off the money that our clients (including clients of my colleagues too) owe to Saradha?
Didi, your benevolence and love for the poor are part of Bengal folklore. Won't you stand by us in these dark hours?
We believed in Saradha as we had seen you and your Cabinet ministers supporting (Sudipta) Sen's company.
Didi, please don't misunderstand me. I am not trying to pass the blame.
Didi, this is just a desperate call from someone who is drowning.
Our ship is sinking, didi, and we can't stay afloat for long.
Yours sincerely,
An impoverished former agent of Saradha group
As told to Indrani Roy/Rediff.com; Illustration: Uttam Ghosh/Rediff.com.

Rediff.com has withheld the agent's identity for security reasons.