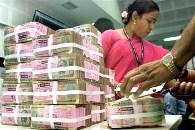 As the rupee touched a record low, opposition on Wednesday questioned the government in the Lok Sabha on the steps being taken to tackle the situation as it feared that there could be a repeat of 1991, when India saw severe balance of payments problem and even had to mortgage gold.
"The crisis in our economy is growing. Are we heading towards 1991," senior BJP leader Murli Manohar Joshi said during Zero Hour, adding the situation was becoming backbreaking for the common man due to price rise.
Expressing concern over rising prices and a falling rupee in the international market, Joshi wondered whether the economic meltdown of US followed by that of Europe was now taking India in its grip.
Rupee took a severe beating on Wednesday to touch a record low of 54.46 vis-à-vis dollar after a spurt in capital outflow and problems in bourses over Eurozone crisis.
Seeking to know what steps the government was taking to tackle the serious situation, he said the decreasing value of the rupee meant devaluation of the work by the Indian labour.
Joshi wanted a discussion on the issue as he doubted government's claims that the fundamentals of the economy were strong.
He recalled that the Economic Advisor to the Finance Minister had recently said that economic reforms were not likely before 2014 Lok Sabha elections.
Joshi insisted that petrol and gas bills have gone up and sought to know what was being done by the government to bring the economy on track again.