Video isn't just about old school television shows, advertisements and tutorials anymore - short, crisp and engaging content across different formats is becoming increasingly popular in a world where stories are consumed on the go.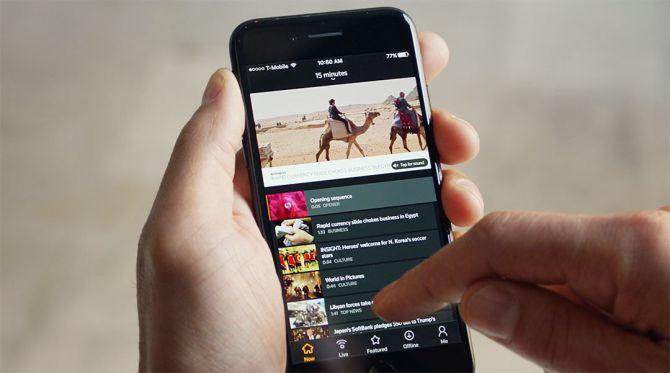 Online video has become the go-to promotional tool for brands as marketers and platforms pick up tips from each other on how to incorporate new engagement formats in their media plans.
Mind you, video isn't just about old school television shows, advertisements and tutorials anymore - short, crisp and engaging content across different formats is becoming increasingly popular in a world where stories are consumed on the go.
SonyLIV's State of Digital Entertainment 2018 report says, India has the second largest video-viewing audience globally.
Indeed, over the past year or so, despite concerns around security, the short video format popularised by video sharing app TikTok has been adopted by many advertising platforms.
Others have taken to long-form content - tutorials, product placement and reviews - to create stickiness.
In May, Facebook launched Thumb-stoppers to create short-form mobile video ads.
In five months, a large number of brands have adopted the format, it claims.
To get a sense of video's growing popularity look at the mad scramble among brands.
Last month, food aggregator Zomato announced that it will launch 18 original shows over the next three months.
Users can watch 3-15 minute videos across shows, recipes and restaurant stories under genres like comedy, reality, fiction, advice, interviews and so on.
Already, brands like Nykaa, Myntra, Flipkart and Amazon have video blogs to engage buyers and help them in product discovery.
When Myntra launched a reality TV show called Fashion Superstar aimed at identifying India's next big fashion influencer, it was clearly a move to engage the fashion savvy influencer as well as their followers.
The added advantage for viewers was access to Myntra's catalogue.
In many ways, this is an upgrade from the in-house magazines of the past, say brand experts.
More recently, e-commerce marketplace Flipkart followed global rival Amazon to announce its foray into original video content with the launch of Flipkart Video Originals.
Integrated within the Flipkart Video platform, which was launched in August this year, Flipkart Video Originals will be produced by some of the best creators in the industry and curated especially for the ecommerce platform.
"When we launched our video platform earlier this year, our agenda was to play a role in on-boarding new customers who are not necessarily new to the internet, but are new to e-commerce.
"There was a gap that needed to be filled and we saw that as an opportunity," says Prakash Sikaria, vice-president, growth & monetisation at Flipkart.
"Brands want to grab eyeballs and own maximum consumer mindshare.
"Unlike the sponsored/branded content that magazines use, video strategy is more subtle, whether it is short, medium or long form," notes Shrenik Gandhi, co-founder and CEO, White Rivers Media.
And subtle is the way to go. Take global music streaming platform Spotify that has introduced sponsored sessions that drive brand affinity for advertisers by offering 30 minutes of ad-free listening.
This enables the advertising brand to become a gateway to an enhanced streaming experience, in return for the listener watching the brand's video ad.
The opportunity is there for all to see, and the platforms are happy to help.
The clear market leader in video content, Youtube, has launched a number of solutions over the past year or so that redesign video advertisements to crisper targeted online formats.
With its entire ecosystem of creators, original content and video advertising tools, YouTube can offer brands a lesson or two on how to monetise all the video formats available out there.
Experts say cheaper mobile data plans and more affordable Android smartphones from China have had a significant impact on how content is consumed.
A recent survey by BrightCove Video Index found that 53 per cent of global video views begin on mobile devices, smartphones, and tablets, taking away share from traditional desktop computers. In emerging markets, especially Asia Pacific (APAC), mobile is king, with a whopping 84 per cent of all video plays conducted on mobile phones.
"Leveraging mobile video is crucial for OTT providers, as they look to not only reach younger viewers – who have traditionally been mobile-first consumers – but also older viewers who have discovered that mobile video is a convenient way to consume content outside the home," says Jim O'Neill, principal analyst, Brightcove.
According to the same index, long-form video (21-40 minutes) and ultra-long-form video (41-plus minutes) saw faster growth in the share of "time watched" on every device, from connected TVs to smartphones.
Ultra-long-form content took the highest total share of "time watched" across all devices, despite short-form video (0-5 minutes) having the highest number of assets published.
"Mobile is no longer dominated by snackable content; instead, it provides a multi-course meal to consumers," O'Neill says.
The learning is simple: Consumers are hungry for video content and that is exactly where brands must be to make the most of the emerging opportunity.
As Gandhi of White Rivers Media puts it, "Advertising may be a hard-sell tactic for brands but gaining a subconscious mindshare is better because good content will always be in demand."
Photograph: Reuters