State-run oil firm ONGC is hiking its stake in Pawan Hans Helicopters Limited (PHHL) from 21 to 49 per cent, even as another top public sector company firms up plans to invest Rs 55 crore in the state-run chopper firm.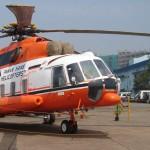 This was announced by PHHL CMD R K Tyagi at a ceremony here to launch seaplane services between the Andaman and Nicobar Islands to promote tourism.

This is the first time such a service is being offered in India. While ONGC will raise its stake in PHHL to 21 per cent from 49 per cent, NTPC has proposed to make an investment of Rs 55 crore in the company, Tyagi said.

At present, the government owns a 79 per cent stake in the chopper firm, while ONGC has 21 per cent participating interest.

PHHL has been carrying out offshore operations for ONGC for the last 24 years. At the function, the first seaplane, named Jal Hans, was inducted by PHHL in the presence of Civil Aviation Minister Praful Patel.

The eight-seater Cessna 208A amphibian aircraft will be used by PHHL to ferry tourists between Port Blair and Havelock Island from the New Year to begin with.

The operations would gradually be expanded to other destinations in the group of islands. PHHL and the Andaman and Nicobar Administration had earlier signed an MoU for seaplane operations under a central scheme to give an impetus to tourism in the islands.

The operations shall be on 50:50 profit/loss-sharing basis between the two parties, an official spokesperson said. As per the extant policy for the civil aviation sector, 100 per cent FDI is allowed in seaplane operations.

The seaplane will operate out of the airport in Port Blair and land at or take off from identified waterdromes in Havelock and Diglipur.

To facilitate safe operation of the service, facilities for sanitisation of the waterdrome before take-off and landing would be put in place.

Furthermore, speed-boats of 10-passenger capacity and standby inflatable boats will be used to ferry passengers between the seaplane and the shore.

Floating jetties, or pontoons, have already been installed at the identified locations to facilitate this process.

The Civil Aviation Ministry also plans to introduce seaplane operations in other parts of the country, like Lakshadweep, Goa and Odisha.
© Copyright 2020 PTI. All rights reserved. Republication or redistribution of PTI content, including by framing or similar means, is expressly prohibited without the prior written consent.