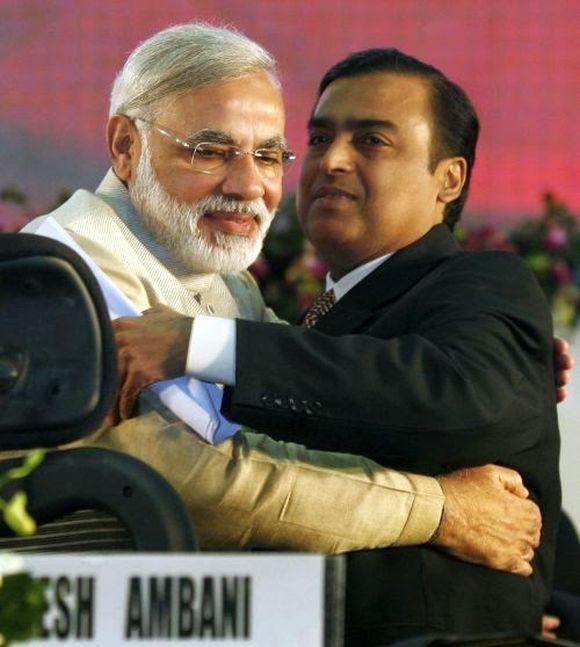 As the Modi government completed its first year on Monday, the stock market wealth has grown by over Rs 10 lakh crore in this period with conglomerates like Tatas, Adani, Bharti, HDFC and Sun Groups clocking huge gains.
At the same time, the two Ambani groups, Vedanta, ITC and L&T groups have witnessed erosion in their respective market valuations during the first one-year period since the NDA Government, led by Prime Minister Narendra Modi, took charge on May 26, 2014.

The other major corporates having added to their stock market valuations include Birlas, Mahindras, ICICI, Infosys, Wipro, HUL and HCL.

Despite a sharp plunge in stock markets during the past couple of months, the stock market has managed to clock a gain of nearly 12 per cent for the first one-year period of the Modi government.

The market benchmark Sensex has gained 2,950 points in this period, while the overall investor wealth -- measured in terms of cumulative valuation of all listed companies -- has grown by over Rs 10 lakh crore to Rs 1,02,52,461 crore.

The Sensex had hit a record high over 30,000 points earlier this year, but a sharp meltdown thereafter has brought it down to 27,643 points. An analysis of market value changes in major groups shows that a large number of big corporate houses have added to their respective valuations in this period, while there are only a few exceptions that have suffered losses.

Mukesh Ambani-led Reliance Industries group has seen its market valuation drop by nearly Rs 80,000 crore (Rs 800 billion) to Rs 290,000 crore (Rs 2.9 trillion)-- largely because of a nearly 20 per cent decline in the share price of flagship firm RIL.

Anil Ambani-led Reliance Group has also seen its market value decline by nearly Rs 50,000 crore. Among other notable losers, Anil Agarwal-led Vedanta Group's market value has dipped by more than Rs 20,000 crore, while tobacco-to-FMCG conglomerate ITC has also suffered a similar notional loss in its valuation.

L&T Group has lost nearly Rs 2,000 crore. However, the gains are much higher for many large corporate groups, Tatas being the most notable among them with a huge gain of nearly Rs 1.10 lakh crore (wherein TCS alone accounts for a gain of about Rs 85,000 crore).

Tata group now commands a market valuation of nearly Rs 8.4 lakh crore.
HDFC and Sun Groups have also seen their market valuation soar by more than Rs 1 lakh crore each, while Sunil Mittal-led Bharti Group has added over Rs 60,000 crore (Rs 600 billion).

Adani Group, led by Gujarati industrialist Gautam Adani, has seen its market value grow by nearly Rs 50,000 crore (Rs 500 billion), despite a decline in the share value of Adani Power, as other two firms (Adani Enterprises and Adani Ports and SEZ) posted huge gains.

Among other major gainers, Kumar Mangalam Birla-led Aditya Birla Group has seen its overall market value grow by about Rs 40,000 crore (Rs 400 billion), despite a fall in the valuation of flagship firm Hindalco.