At the heart of the strategy is the basic fundamental of keeping costs for long-haul flights low.
Illustration: Dominic Xavier/Rediff.com.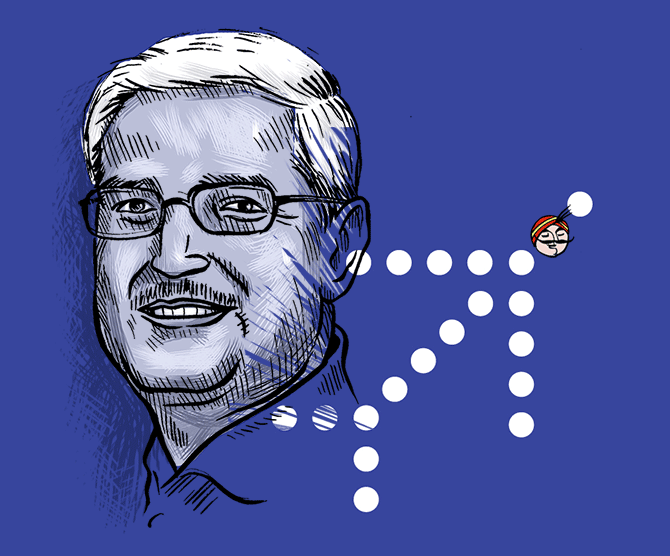 A philosophical Rakesh Gangwal -- a veteran at running international airlines -- invoked Shakespeare, cited the example of five international carriers to justify the case for acquiring Air India's international business through which IndiGo wants to foray into long-haul, low-cost operations.
At the heart of it was the basic fundamental of keeping costs low, a characteristic a frugal Gangwal has imprinted on IndiGo; the airline he founded in 2005 along with Rahul Bhatia.
And in that process, IndiGo intends to overhaul Air India's fundamental business model -- make it a nimble low-cost airline which flies long-haul routes without the baggage of premium service.
"Full service will just not work for us, if we just parody other guys, other things come into play like legroom, frequent flyer programme, the comfort of the blanket and how well the flight attendant smile -- that becomes a difficult game and we are not quite interested in playing that game," the reticent Gangwal said insisting repeatedly that it was not about getting bigger but for a profitable international operation.
The founders of IndiGo had decided to address the analysts as IndiGo's stock took a beating after news of its interest in Air India's international business became public.
On Thursday Gangwal explained that he was already chalking out a blueprint of IndiGo's international foray when the government decided to divest stake in Air India.
Before that, co-founder and long time friend Bhatia had cited examples United Airlines acquiring PanAm or American's acquisition of TransWorld Airlines specific operations.
"Today, United Airlines is one of the largest international carriers and it is questionable if that would have happened but for those acquisitions," Bhatia said before handing over to Gangwal.
Incidentally, Gangwal has worked at both United and American and is credited with overhauling their route structure and develop their hubs.
"Success is not dependent on developing these international markets, in fact, we would take passengers from connecting international hubs and from high cost non-stop operators and fly them on our non-stop low-cost flights," Gangwal said adding that the world is waking up to the prospects of low-cost long-haul operations.
"There is Norwegian and Wow Air as a successful model, on the other end of the spectrum there are airlines like Lufthansa and Qantas are all trying their best to build their own long-haul low-cost operations."
He was not ready to talk numbers as he said that he was just sharing his thoughts and not numbers. "It's like going to a corporate board meeting in a swimsuit," Gangwal said.
Gangwal's confidence seems to arise from the mammoth domestic operations that IndiGo has built over the last 10 years.
"Our massive domestic operations is a big plus, passengers will mostly come from foreign airlines that fly through hubs at a higher cost. Just for a moment think about the value proposition that IndiGo will offer with a hassle free, non-stop low-cost flight," Gangwal said.
From his vast experience of handling international carriers, Gangwal responded to analysts who for the past few days have been searching reason behind the company's foray.
On being asked about the challenges that will come with handling Air India's massive fleet which is different from IndiGo's, Gangwal turned the theory of being asset-light on its head.
"Aircraft are never a liability, it's always an asset, you can raise money against it during the crisis," he said, adding that during restructuring IndiGo will definitely cut down on other aspects of Air India to make the model nimble and asset light.
Analysts were still anxious. But what about the massive working capital that Air India requires? How will you generate that asked an analyst? Pat came to the reply -- "my goodness! The requirement of working capital will never be near that Air India needs, it will be enough to fund through internal accruals," he said.
In that 60 minutes call Gangwal not only laid bare reasons to take over Air India but gave out the blueprint of IndiGo 2.0 -- from a domestic behemoth to an airline that will compete against international biggies.
"We see Air India as a canvas with its routes, slots and its biggest strength- the employees who know many good things."