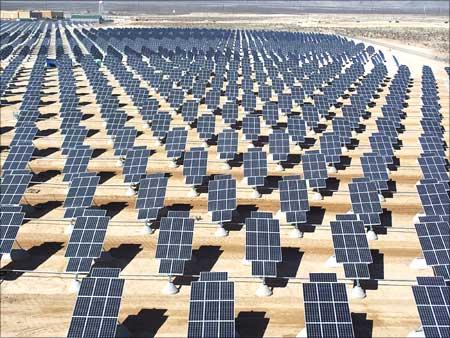 To mobilise private capital in the clean energy sector, the US has agreed to place a field investment officer in India apart from hosting a series of events to overcome strategic barriers in accelerating institutional and private financing.
"USAID will install a field investment officer in India this summer backed by a transactions team to help mobilise private capital for the clean energy sector.
"In February, the United States will host the Clean Energy Finance Forum and a government-to-government Clean Energy Finance Task Force to help overcome strategic barriers to accelerating institutional and private financing," an Indo-US joint document on clean energy said.
It said that the Export-Import Bank is also exploring potential projects for its MoU with the Renewable Energy Development Agency (IREDA) for upto one billion dollars in clean energy financing.
These were agreed after a high-level delegation-level meet between Prime Minister Narendra Modi and US President Barack Obama who arrived in New Delhi today.
Modi emphasised India's ongoing efforts to create a market environment that will promote trade and investment in this sector in the meeting.
The Department of Commerce will also launch a trade mission on clean energy, it said, adding that Overseas Private Investment Corporation (OPIC) plans to build on its existing portfolio of $227 million in renewable energy and continue to identify potential proects to support utility scale growth and off grid energy access.
Both the nations also renewed their committment to the US India Joint Clean Energy Research and Development Centre (PACE-R), a 125 million dollar programme jointly funded by the US and Indian governments and private sector.
"The renewal includes extending funding for three existing research tracks of solar energy, building energy efficiency and advanced bio-fuels for five years and launching a new track on smart grid and grid storage technology," the document said.
Strengthening their joint commitment to promote super efficient off grid appliances that can dramatically extend the range of energy services available to those lacking electricity, both India and the US agreed to support the deployment of these resources to help meet India's energy access goals.