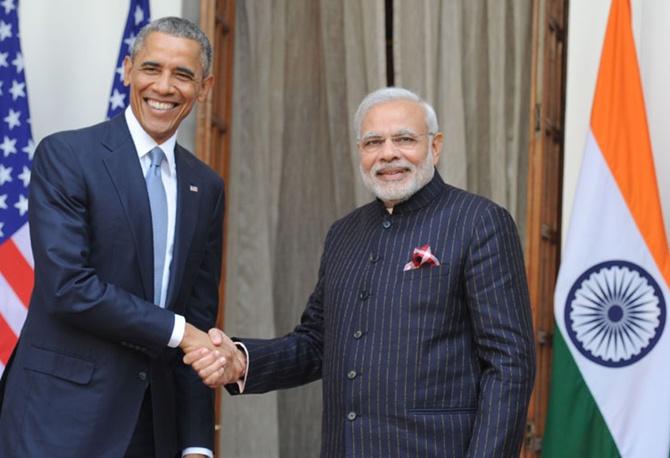 Issues related with intellectual property rights, including piracy of films and software, figured prominently during the India-US CEO Forum in New Delhi attended by Prime Minister Narendra Modi and US President Barack Obama.
Talking to reporters after the meet ended, HDFC Chairman Deepak Parekh said Walt Disney Company CEO Bob Iger raised the issue of film piracy.
"...they (Walt Disney) have lots of investments in India but lot of films are pirated. The laws are there but implementation is difficult.
"Even Finance Minister (Arun Jaitley) said that we have to look into it. Mr Modi also acknowledged that there is piracy both in IT software as well as in films and we have to tackle this and take strong legal actions...," he said.
Tata Sons Chairman Cyrus Mistry and David M Cote of Honeywell were co-chair of the high-profile meeting.
Biocon Chairman and Managing Director Kiran Mazumdar-Shaw, who also participated in the Forum, too said that the US industry has raised its concerns on IPR related matters.
She further said there are many areas where the businesses of both the sides can increase cooperation and collaboration such as in renewable energy, smart cities and health-care.
Other issues that were discussed include the proposed bilateral investment treaty (BIT), social security pact or Totalisation agreement, lack of expeditious dispute resolution.
"BIT is going to be an important building block for expanding the relationship. The point that was made in the CEOs Forum was to say that we take feedback from both the sides before really concluding the treaty so that the treaty becomes meaningful," ICICI Bank chief Chanda Kochhar told reporters. Kochhar said that issues related to visa also come up for discussion.
Among industry leaders who participated in the meeting were Reliance Industries Chairman Mukesh Ambani, Bharti Enterprises chief Sunil Mittal, Reliance Group Chairman Anil Ambani, Adani Group head Gautam Adani, Mahindra & Mahindra Chairman Anand Mahindra and Sudhir Mehta of Torrent Pharma.
SBI Chairman Arundhati Bhattacharya, ONGC Chairman and Managing Director Dinesh K Sarraf and BHEL head B Prasada Rao also attended the meet.
The US team includes Indra Nooyi of Pepsico, Harold McGraw, Chairman McGraw Hill Financial and Ajay Banga, CEO Mastercard.
Talking about the meet, Jubilant Organosys Co-Chairman and Managing Director Hari S Bhartia said one of the things that was discussed was ease of doing business and stability of taxation.
There were also discussions on technology sharing and facilitation between the countries, he added.
During the meeting, Indian side reiterated that no retrospective changes in taxation regime would happen.
On totalisation agreement, Parekh said that: "we need a time bound programme so that there is a definite agreement reached within some time". On visa related issues, he said that: "skilled workers and knowledge workers we have said that freer access between the two countries must be there and also for healthcare workers was raised.
About the meeting, Adani group chairman Gautam Adani said: "it was a very good meeting. it was a satisfactory meeting."

Meanwhile, CII welcomed the comments made by both Prime Minister Modi and President Obama at the US-India Business Summit.
Agreeing with Obama's observation that the economies of the two countries are interlinked, the chamber stated the real need of the hour is to diversify the bilateral trade basket.