Maaza is the country's top mango juice drink despite competition from brands such as Frooti and Tropicana Slice growing in the past few years.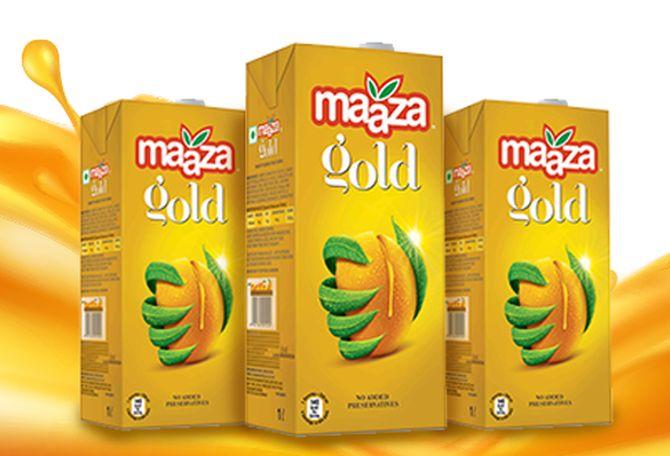 he world's largest beverage maker, Coca-Cola, is counting on markets such as India to spruce up its portfolio of global brands.
The Atlanta-based major sees growth potential in India, ranked sixth in its pecking order of markets.
While part of its India blueprint will involve pushing the local unit up from sixth to fifth position in the next one year, the second part will see the global major increasingly taking some of the popular brands to international markets.
Thums Up and RimZim have been taken to neighbouring countries in South Asia in recent months.
"There is potential to take some of our brands to many more markets.
"Maaza is one such product we are exploring after Thums Up and RimZim," said T Krishnakumar, president, India and Southwest Asia, Coca-Cola.
Both Maaza and Thums Up are also products that the company is hoping will touch sales of $1 billion (Rs 7,000 crore) each in India in the future for which the firm is investing behind in terms of new launches, innovations and distribution.
Last month, Coca-Cola India had revamped the packaging of Maaza for which it had collaborated with UK-based design agency Taxi Studio.
The aim was to make the brand more relevant and contemporary for users and help sustain its leadership.
Maaza is the country's top mango juice drink despite competition from brands such as Frooti (from Parle Agro) and Tropicana Slice (from PepsiCo) growing in the past few years.
Along with brands such as Sprite and Thums Up, experts say Maaza has helped Coca-Cola India consolidate its position as the country's leading beverage maker.
In recent quarters, variants such as Maaza Gold and Maaza Refresh have been launched to strengthen the portfolio of the mango juice drink. Thums Up, on the other hand, has seen the introduction of Thums Up Charged and its no-sugar variant.
Coca-Cola is also investing significantly behind what it calls a "fruit circular economy" in India to help it source ingredients locally to support manufacturing.
Besides mangoes, Coca-Cola is sourcing fruits such as oranges, guavas, and lichi in partnership with players such as Jain Irrigation as it launches regional drinks.
James Quincey, president and chief executive officer, The Coca-Cola Company, had recently told Business Standard that the firm would introduce more local innovation of global brands to grow sales.
"One of the ways that personalisation is coming to light in India is via the local fruits and flavours that are going into beverages.
"Our Minute Maid portfolio, for instance, has seen a lot of attention we've paid to this, whether it is getting local flavours such as mosambi or launching a grape-flavoured drink called Colour (under Minute Maid) in Tamil Nadu," he said.
Going places

Thums Up and RimZim have been taken to neighbouring countries in South Asia
Firm hopes to touch sales of $1 bn each from the two brands
Along with Sprite and Thums Up, Maaza has helped Coca-Cola consolidate its position as India's leading beverage maker
The firm is introducing more local innovation of global brands to grow sale
Photograph; Courtesy, Coca-Cola India