Companies are innovating with tech tools to ensure that you spend less time at the cash counter.
Illustration: Dominic Xavier/Rediff.com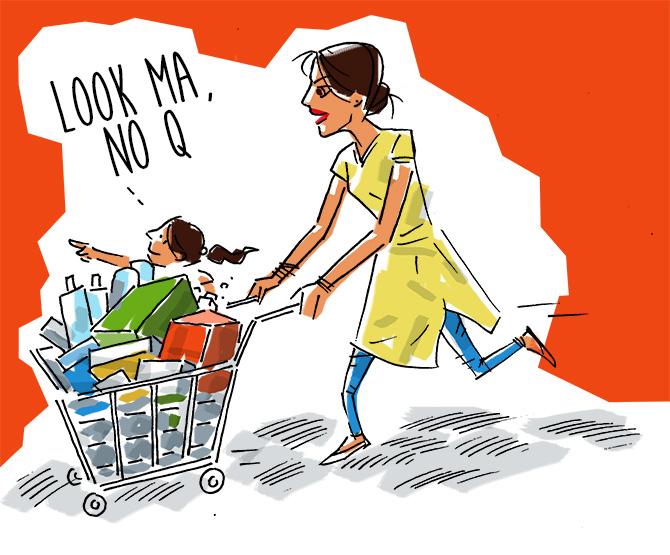 If the quality of products and services is fundamental to successful retailing, minimising the time spent by customers at the till is equally vital, more so in a post-demonetisation scenario in India.
Retail major Shoppers Stop last week announced a tie-up with proximity communications firm ToneTag to introduce the latter's sound-based contactless payment system at its stores.
From deploying new technology to upgrading existing tools or launching mobile payment services and closed wallets, companies are keeping pace with innovation to cover a crucial touch point for customer experience.
Govind Shrikhande, customer care associate and managing director, Shoppers Stop Ltd, says the company invests in various solutions to improve in-store checkout experience.
"These include solutions around mobile points of sale and associate apps for assisted sales for customers. Besides, there are other initiatives such as integrations with digital wallets, payment apps and contactless cards, thus providing a wider choice of convenient and secure payment methods to customers. These initiatives are in line with our overall omni-channel strategy through which we aim to achieve 20 per cent digital-influenced sales by 2020."
ToneTag, which is integrated with digital wallets or other payment apps, works on any mobile device.
The mobile app communicates with Shoppers Stop's POS system using encrypted sound waves.
Shrikhande adds the technology would allow their customers faster checkouts through an "anonymous, secure and cashless payment experience".
While, for Shoppers Stop, a mobile POS may seem a natural choice as it caters to a middle-to-premium segment, Future Group with its mass appeal claims to be "payment mode-agnostic".
The group, which has flagship retail chains such as the Big Bazaar hypermarkets, aims to cover various payment options including mobile wallets, plastic cards and loyalty programmes.
A spokesperson reveals the company is testing a mobile POS, and that for a hypermarket with a massive size of stock keeping units clearing a test of its scale is critical.
"We are constantly upgrading our POS environment, with new generation machines," he adds.
The company introduced "quick checkouts" around Republic Day sales this year, asking customers on its website to shop fearlessly by not worrying about queues. The customers were told to book time slots for specific days, and thousands responded positively despite any marketing or ad campaign.
Electronics major Samsung, which recently launched its mobile payment service in India, promises its consumers an easy solution to the trick of managing multiple payment instruments such as cards and digital wallets.
Asim Warsi, senior vice-president, Samsung India Electronics Ltd, says, "Samsung Pay will create an ecosystem where customers can manage their credit cards and debit cards as well as make payments through their already active payment platforms like Paytm and Unified Payments Interface."
On the other hand, e-commerce start-up ShopX, which caters to small retailers across nine states in south and west India, aims to cover one million outlets and through them 100 million end customers.
With the help of its platform and closed wallet, ShopX has turned the retailer into a multi-service point, claims CEO and co-founder Amit Sharma.
"The retailer has an app installed on her smartphone where customers can discover products. The retailer becomes a point of ordering, and also a point of cash payment and delivery and returns," he says, arguing that customer experience is key, even in case of the small mom-and-pop store or consumer in areas largely untapped by online marketplaces.
Malay Shah, senior director at professional services firm Alvarez & Marsal, points out that the kinds of technologies being used differ for different formats and categories.
Consumer durables and IT, in case of both organised and unorganised retailers, is a category that will continue to see higher innovation, along with fashion and jewellery, whereas a segment like grocery is witnessing more innovation on the back end than the front end, he adds.
While the time spent at the cash counter is undoubtedly shortened with near-field communication-driven or wireless payments, for an Indian consumer the duration would still remain longer than for a westerner because of the MRP-based pricing system, which causes a clerk with the scanner to match the price on her screen with the multiple MRPs on a product, Shah argues.
Rachna Nath, partner and head, digital consulting, KPMG in India, stresses that the POS is more about experience than sales.
Even as security emerges as a concern for the customer, demonetisation of high-value currency notes last November has hastened the use of new payment mechanisms.
"The trend with the retailer is improving customer experience. And payment is a part of that. A lot of them have gone in for what we call omni; hence, the question as to how do they make sure that at every point that the customers interact with the retailer they are getting consistent experience," she adds.