Hours after the government banned Rs 500 and Rs 1,000 notes, Indians are facing an acute shortage of chutta, reports Rediff.com's Syed Firdaus Ashraf.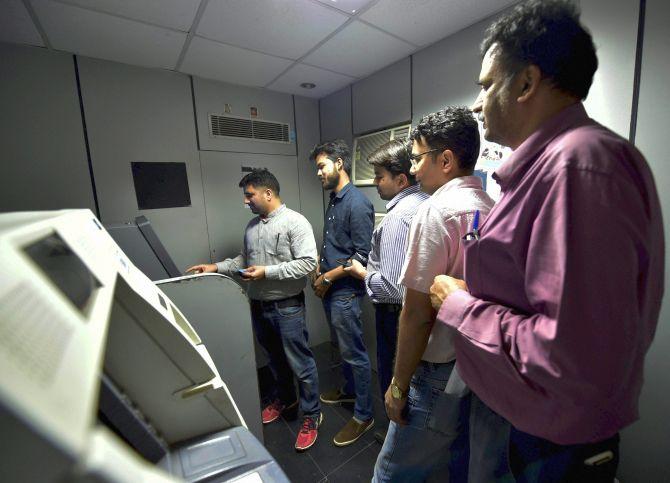 India woke up to Woeful Wednesday after the Narendra Modi government anounced a ban on Rs 500 and Rs 1,000 notes with immediate effect.
People in different cities were struggling to get chutta, khule or change after a purchase or transaction, and the worst affected were small traders and travellers.
"If you want to have this coconut water, you will need to pay exact change," said Ghanshyam Das, a coconut vendor in the central Mumbai area of Mahim.
"I had no idea about this ban on Rs 500 and Rs 1,000," Das added. "In the morning, I was surprised to see at least 20 new customers queuing up and buying coconut water. They all gave me Rs 500 notes and I gave them all the change that I had saved. Now, I don't have any change left.
Does he feel cheated? "No, I don't feel cheated because they paid me. It was my mistake that I had no idea about the ban on Rs 500 and Rs 1,000. I will go and deposit the money in the bank tomorrow. But customers are not willing to buy coconut water anymore as I am demanding that they give me chutta (exact change) for coconut water," he said.
After the ban came into effect from midnight, many people who had Rs 500 and Rs 1,000 notes are waiting for the banks to open so that they can deposit their money.
"I am not worried about depositing the money as much as about withdrawing money," said Neha Sinha, a working woman. "I am told that one cannot withdraw more than Rs 4,000 at a time. I am worried about the coming days as I don't know how to pay for my daily chores as I don't have a credit card or debit card."
Asked if she was happy about the Modi government's move, Sinha said, "Yes, I am, because it will curtail black money. But I am worried now about the big queues in the bank to withdraw money from tomorrow. I don't have time to run to the bank and at the same time go to office."
"The government should have declared a national holiday and let the banks operate so the common man could have gone to the bank to withdraw money," Sinha added.
The worst affected service since Tuesday night was petrol pumps because many people had queued up to fill their tanks and get rid of Rs 500 and Rs 1,000 notes.
"Petrol pump owners are refusing to give any change back. They are saying either you fill petrol for Rs 500 or Rs 1,000 or you will not get change. There is no Rs 100 and Rs 50 denomination notes in the market that can be returned to customers like us," said Salil Sawant, a car owner who had come to the petrol pump early in the morning.
Ashok Shah, a trader from Jamnagar, had gone to Amritsar and suffered a nightmare on Wednesday morning when he was returning in his car.
"No toll plaza is willing to give chutta (change) on the highways. I have to either not take the change back or forfeit my Rs 500 note for a toll plaza ticket," Shah said.
"I wonder how many toll plazas will I have to forfeit my Rs 500 notes at till I reach home," he said.
People who opted for cash-on-delivery while shopping at online stores are also worried.
"I had ordered two books online. I opted for cash-on-delivery as the mode of payment. The books are going to arrive this week. I hope the courier accepts Rs 500 and Rs 1,000 notes or else I will have to return my order," said office goer Sunil Prabhu.
IMAGE: People queue up at an ATM to get notes of lower denomination on Tuesday night. Photograph: PTI Photo