From farmers to cement, steel, logistics, transportation and automobiles, the back-end is struggling to get going due to the liquidity crisis.
Viveat Pinto & Aditi Divekar, Chandan Kishore Kant & Sohini Das report.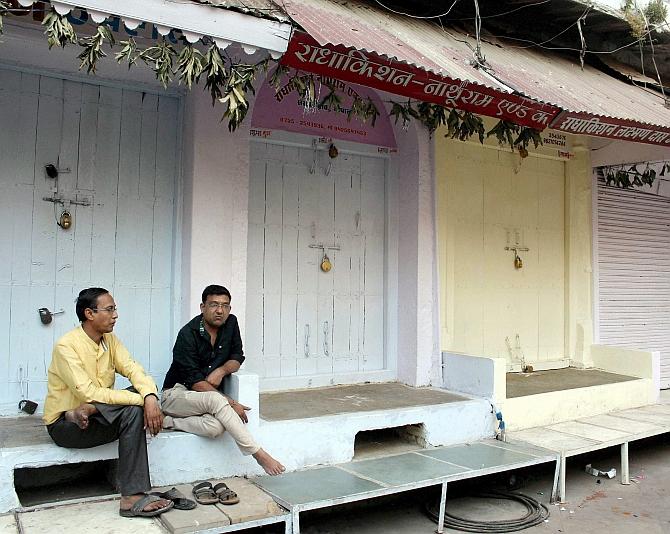 Devendra Shetty runs a small canteen in central Mumbai. On most days, it does brisk business but the past week has been bad. Demonetisation of Rs 500 and Rs 1,000 notes, Shetty explains, has not only meant fewer customers walking in for lunch. He's also having a tough time with suppliers.
"Most of them ask me how I will pay them. Our business works on cash. Typically, we clear payments as quickly as possible, to avoid having to carry too much credit on our books. Now, I am forced to pick up supplies on credit till this currency crisis eases. I don't like this," he says.
This is a dilemma shared by millions of traders, entrepreneurs, small-time retailers, transporters and intermediaries. India's back-end, which works on cash, has almost come to a standstill because of the demonetisation drive announced last week.
Goods are not moving because truckers and logistics players are not willing to take these without cash. Trade, at the same time, is short of funds and, hence, not willing to stock beyond a point. So, a straight impact on manufacturers.
Take retailers of fast moving consumer goods, considered among the most widespread of trade networks. This business has suffered badly, especially at the 'last mile', where the density of retailers is high.
It is estimated that of the country's 12-15 million retail outlets, 9.4-9.5 mn are the traditional 'mom and pop' or 'kirana' stores. Cash is the preferred mode of transaction, as it allows them to keep costs down, make payments quickly and ensure the cycle of demand and supply is met easily.
"Kiranawalas operate on very thin margins. They run a tight ship, funded typically by cash," explains Sumit Malhotra, managing director, Bajaj Corp, maker of Bajaj Almond hair oil. "This entire system goes out of gear if there is a liquidity crisis. And, contrary to popular belief, this will take time to be restored, at least three to six months."
FMCG companies expect sales to suffer in the December quarter, due to destocking by traders and retailers. The revenue impact could be 10-15% in the quarter for the sector.
Take also the steel and cement trade; it hasn't moved in the past few days.
The revenue impact for steel is estimated to be huge, according to sources at the Bombay Iron Merchants' Association. "There is no movement of stocks in warehouses. Nobody is doing anything for the past two to three days and the entire buy-sell cycle has been disrupted," said a source at the body.
Cement is worse. A key constituent of the building and construction industry, initial checks reveal dealers are not buying new stock. The cause is not only a liquidity crunch but also fear whether the real estate market will use up their material due to a slowdown there, on account of the demonetisation drive. Typically, the average life of a cement bag is five to six weeks and dealers cannot keep a high level of inventory for long, experts said.
Already in the September quarter, growth in cement demand had fallen to 2.55% from 5.5% in the June quarter and 11.5% in the March one. Analysts estimate the 440-million tonne market will end 2016-17 with growth not more than 2-2.5%, against 4.6% the previous year.
Transporters say truck rentals will shoot up as small operators, who work on only cash, go out of business. Ashok Shah, chairman, V Trans India, says: "Big companies like ours which runs approximately 1,100 trucks daily have credit arrangements. That is not the case with small operators, who have to pay Rs 50,000 to drivers for various expenses over long routes. With the shortage of liquidity, these trucks will make fewer trips, impacting transportation and pushing up rentals."
The transportation impact is fairly widespread, as everything from perishables to non-perishables is delivered via road in India.
According to sector estimates, the ratio of goods transported by road in India vis-a-vis rail is 70:30. A liquidity crunch, says Kultaran Singh Atwal, chairman, All India Motor Transport Congress, hits at the heart of the business.
Automobiles are also not spared.
Dealers say the propensity to pay the down-payment for a car in cash is more in rural areas, as agricultural income there is mostly in cash.
A paucity of liquid funds, therefore, will mean people in rural areas are likely to defer purchases, impacting sales. Around 35% of passenger car sales come from the rural markets; in two-wheelers, this share is around 50 per cent, says Vishnu Mathur, director-general, Society of Indian Automobile Manufacturers. Nobody is excited at this stage, he says. Essential supplies to be hit from Monday, warn truckers.
---
Business of about Rs 1,000 crore would be affected
Megha Manchanda reports from New Delhi
The cash-driven transport sector is one of many bearing the brunt of the current currency crisis, with truckers saying supplies of fruit, vegetables and grain will get hit from Monday if the situation does not improve. For, they say, there is scarcity of cash with the drivers, vendors, labourers and also the authorities.
There are tens of millions directly and indirectly are associated with the sector. Business of about Rs 1,000 crore would be affected, a transporter said.
The Union ministry of road transport and highways had, in the wake of the government's demonetisation announcement, waived toll payment at all highways. Even so, the All India Motor Transport Congress, an apex body for transporters, has said the limit of Rs 10,000 withdrawal a day and a maximum of Rs 20,000 a week is minuscule and is paralysing their members' business. As much as 80 per cent of transport costs (fuel, toll payments, drivers' board and lodging, repairs, payments to loaders) are cash-based, it says.
In the area around Delhi, it is a twin blow, as an estimated 200,000 diesel-powered vehicles went off the roads from Sunday, on a National Green Tribunal order barring vehicles 15 years old or more from plying on or entering this city. The city government has begun the process of de-registering these vehicles.
---
Govt likely to put curbs on jewellers
Rajesh Bhayani reports from Mumbai
On Rajat Sharma's show Aap Ki Adalat on India TV, Finance Minister Arun Jaitley mentioned thrice that shops of a particular industry were open till very late in the night after Narendra Modi's demonetisation announcement. He was obviously referring to jewellers who were selling gold by accepting withdrawn currency notes, which has continued.
According to sources, the government is likely to clamp down on jewellers and Tuesday, November 15, will be the last day for them to deposit old high-value currency notes.
The gold and jewellery route has been followed by persons with black money to convert their Rs 500 and Rs 1,000 notes at a haircut of 20-40%.
This move will halt such sales of gold at a huge premium against old currency notes, which jewellers were doing till the income tax department raided them across the country on Friday and sent around 600 notices to jewellers asking the details of daily sales from November 7 to 10. The I-T department, in its notices, also asked for CCTV footages, especially of cameras near cash counters, to seek date-wise information and to check if PAN numbers or ID proofs were collected from customers.
Another strong rumour in the market is about banning import of gold till March 2017, which according to sources, is unlikely, but will not be surprised to see some restrictions on imports till end-December.
Sudheesh Nambiath, lead analyst, precious metals demand, GFMS, Thomson Reuters, said, Banning imports would send a wrong message to the industry. The government hasn't been against the industry and is only interested in streamlining the process and restrict movement of unaccounted money to gold and jewellery. The buzz that jewellers will be asked to deposit cash till November 15 in itself will take care of the diversion of old currency notes to gold, diamonds, silver and precious stones.
Banks are heavy on data currently with multiple inter-relationships on variables and running a good analytics can easily identify accounts with spurious deals. That is a more intelligent approach than banning gold import.
If gold imports are restricted or banned for a few months as the buzz suggests, selling existing stock or recycled gold will be the only source for business. However, such restrictions will take premiums higher and some old idle jewellery with households may be sold in market at a premium, said an analyst.
Meanwhile, other methods of laundering black money hoarded in the banned notes are also flourishing. Some chartered accountants are using their smaller clients to launder their larger clients money. Up to 35-40% premiums are quoted for such entries by CAs. Some players have used daily wage earners to exchange Rs 4,000 and in return they were given more than their daily wages. In cities such as Surat and Ahmedabad, workers made Rs 600-1,000 for each exchange of Rs 4,000. Reports of very long queues outside banks also include such persons, said a Gujarat-based trader.
While the hawala market or unofficial foreign currency market has come to a virtual standstill, some dealers have sold dollars between Rs 85 and Rs 110 against the official rate of around Rs 67 per dollar.
---
Agriculture markets come to halt
Rajesh Bhayani reports from Mumbai
Trade in mandis or Agriculture Produce Market Committees in many parts of the country has come to a standstill because of spiralling effects of demonetisation move.
Farmers, who are used to accepting money only in the form of cash, resist money in any other form and traders don't have cash with them to buy farm products.
It is only in those mandis that are computerised and where payment is made electronically, is trade going on smoothly.
According to traders, it would take a few weeks before the situation is back to normal when farmers start accepting electronic fund transfer or accept cheque payment.
There are about 200 mandis that are integrated with the electronic national agriculture market. However, trade on the electronic platform is very small.
Rajesh Agrawal, former chairman of The Soybean Processors Association of India, said: "APMCs in Madhya Pradesh were closed following the demonitisation move. These are set to open gradually, but it'll take a while before trade becomes normal and farmers bring their produce as usual."
The closure has not impacted soya bean prices because market has been over-supplied.
Madhya Pradesh Chief Minister Shivraj Singh Chouhan had to intervene to convince farmers that traders would transfer money into their bank accounts. In MP, such electronic payment would be easy as farmers in the state were registered for the wheat procurement programme four years ago and procurement money was deposited in their accounts.
A Mumbai-based trader from Vashi APMC dealing with Rajasthan traders said that 14 mandis, where farmers have been convinced to accept electronic fund transfer, would open in one or two days. The rest start functioning gradually as acceptance among farmers increase. Mandis in Gujarat are no better as problems faced by them are similar.
Devendra Vora of Friendship Trading, a wheat trader at Vashi APMC, said: "In Vashi, trade has fallen 90 per cent due to liquidity issues and later arrivals of trucks, which were held up on the roads due to various reasons following withdrawal of currency notes. The issue here is with transporters who brought commodities from producing centres are not accepting cheques and want cash, which is not available. This could be sorted out as systems develop."
Notably, more and more farmers are being convinced to accept digital payment. They have their Jan-Dhan accounts, if not other bank accounts. But for the common electronic agriculture market to develop and local mandis to discover transparent pricing, electronic fund transfer has to get acceptance among farmers and transporters.
Photograph: PTI Photo.