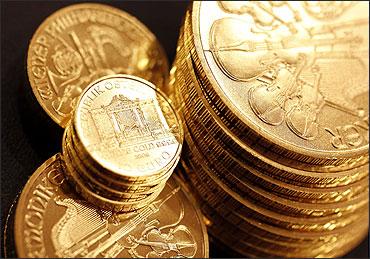 Real reason for crashing gold prices is not Trump victory, says expert.
The comments of US-based strategic investor Nigam Arora on the gold price fall being driven by India has been impacting the global bullion market since Wednesday.
He had, that day, written in his closely tracked The Arora Report that the real reason for crashing gold prices was not the Donald Trump victory there but Narendra Modi, the Indian prime minister, demonetising 86 per cent of the country's currency base at one stroke.
Demonetisation: Take the Pulse of the Nation poll!
Arora, founder of two fast-growing companies, claims authorship of a method of making money by predicting change before the crowd follows. On Wednesday, following reports of an increase in the US Federal reserve's policy rate being certain in its December review, gold prices fell in a few hours from $1,217 an ounce to $1,176. Gold had also fallen soon after the Trump victory, on his spending plans, which strengthened the dollar.
However, according to Arora, "To understand heavy selling from India on Modi's move, one has to understand the underground economy in India that runs on black money". His report estimated the underground economy in India at a fifth to a fourth of the total.
He'd said: "Converting black money into white money has been a major source of demand for physical gold. Now that large bills used to buy gold are worthless, demand for physical gold will decline."
In India, there were rumours that the government could restrict import of gold or even ban it for a few months. For, in the nine days after demonetisation, its import rose by $2 billion, which is unusual. A day's import worth $900 million is said to have been cleared from the Customs on November 16.
Further flows have slowed but the rumours have spread to the international market. Also, with a strengthening dollar, several countries where exposure to gold is higher are rumoured to be considering taxing the gold trade or restricting its import.
Traders on the Multi Commodity Exchange here have cut positions in gold and silver; prices are down in the markets, with the premiums of a few days earlier having vanished; prices are again quoted in discounts to the import price.
Not only Nigam, Kitco and Gold-Eagle, two major global websites for gold, were carrying India gold stories among top stories. Gold-Eagle report which was viral on web talked about how much gold Indians hold. The report suggests Indians are holding 41,000 tonnes.
Experts fear a possible gold import ban as the next step by the Modi government in its fight against black money.
Dubai is imposing five per cent duty on jewellery imported, effective from January 1, 2017, suggests another strong buzz in banks dealing in bullion.
Dubai has emerged as a gold & jewellery trading hub, and to support their domestic jewellery business this measure is being implemented.
India's handmade gold jewellery exports may still be viable but round-tripping of gold will be impacted from India, once this is implemented.
Meanwhile, CLSA, a leading foreign portfolio institution, in its report on demonetisation has proposed that the government can consider imposing limit on holding gold.