For a segment that thrives on promise more than performance, the country's start-up ecosystem is refusing to get carried away by the funding this calendar year.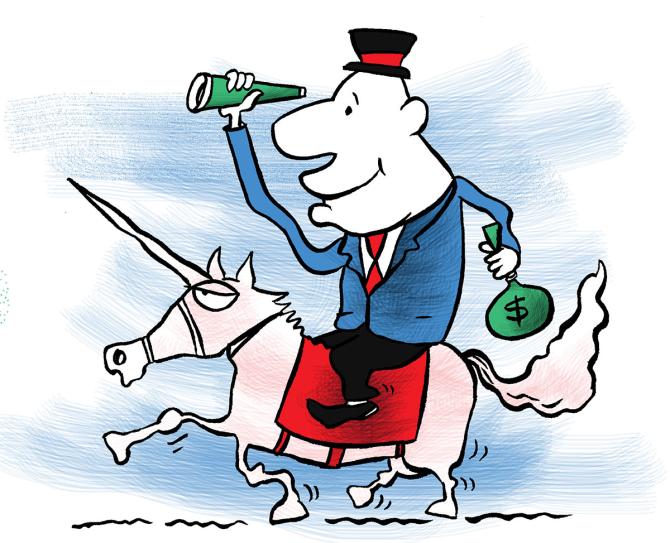 This has created the highest level of uninvested venture capital in seven years as investors wait for corrections in the working and — more importantly — valuation of start-ups while looking for cockroaches instead of unicorns.
"Investors are now keen to invest in companies that have good top and bottom lines.
"This has made valuations more realistic," says Padmaja Ruparel, co-founder of Indian Angel Network, India's largest network of angel investors.
There have been 231 funding deals worth $2.14 billion for start-ups this year, between January 1 and March 21, according to data from Tracxn, a market intelligence platform.
However, this has failed to perk up sentiment, with entrepreneurs as well as investors believing that the so-called funding winter, marked by a sharp decline in money flowing into start-ups, is here to stay awhile.
For one, the funding this year pales in comparison to $10.5 billion that poured in through 696 deals during January 1-March 21 last year.
Secondly, there has been no unicorn — unicorns are start-ups valued at more than $1 billion — that would grab headlines and fire public imagination.
In fact, there has been none since November.
Unicorns were the toast of the start-up town before funding slowed around the middle of 2022 as reality began to bite in the shape of poorly performing start-up IPOs and a liquidity crunch due to macroeconomic factors.
As many as 23 unicorns took birth in 2022, and there were 42 in 2021.
"Previously, many companies raised funds on high valuations fuelled by the fear of missing out and subsequently witnessed down rounds.
"Investors now believe that it is better to have a lower valuation and look at the core fundamentals of the business," said Shashank Randev, co-founder of 100X.VC, which has invested in at least 80 start-ups in their early stages.
Despite the missing unicorns, there have been large rounds this year.
PhonePe has been in the limelight, raising a massive $650 million in three tranches so far as part of an ongoing $1-billion round. Lenskart raised $500 million recently from the Abu Dhabi Investment Authority. InsuranceDekho, an insurance technology start-up, raised $150 million in a series A round last month.
However, big-ticket deals will have to rise dramatically this year to catch up with 2022, which saw 61 rounds of more than $100 million each, and with 2021, which saw 105 such rounds.
"A lot of start-ups are finding it difficult to raise funds at the moment.
"And those that are raising funds are not doing so at attractive valuations.
"We are ourselves in the process of raising funds and finding it quite challenging," Sameer Aggarwal, co-founder and CEO of RevFin Services, a fintech start-up, told Business Standard.
"Investor interest," he said, "is low right now."
Interest or not, fund houses do seem to have a lot of money to invest.
India-focused venture capital funds are sitting on the pool of dry powder totalling $12.88 billion, the highest since 2016, according to Prequin, a London-based investment data company.
But they are not willing to fire as liberally as they were until the first half of 2022, and are taking a long and hard look at valuations.
"Start-ups now are by no means undervalued; they are rightly valued based on their fundamentals and long-term prospects.
"This is a healthy sign for the ecosystem as the true potential of companies is now being assessed," said Dipanjan Basu, partner, Fireside Ventures, an Indian firm that invests in consumer-focused start-ups in their early stages.
Most of the funding now appears to be going into either early-stage start-ups, which offer higher growth potential and where the amount to be invested need not be large, or late-stage start-ups that have already established their business models and scaled up.
Those in between are struggling, as many VCs have chosen to focus more on "cockroach" start-ups.
Cockroach start-ups are those with resilient business models that can survive through a rough patch, akin to how cockroaches cope with harsh conditions.
"We have many cockroach start-ups in our portfolio, which have survived and continued growing," said Anirudh A Damani, managing partner, Artha Venture Fund, who sees unicorn status as just a tag. Artha is a micro-VC that has invested in 100 startups, including OYO and Rapido.
Akshay Mehrotra, co-founder and CEO of Fibe, earlier known as EarlySalary, which recently raised $110 million, says he has faced no challenges in raising funds.
Many businesses, he says, are now focusing on managing revenues and targeting profitability.