'There were lots of functionalities the Group of Ministers asked us to incorporate.'
Indivjal Dhasmana reports.
Illustration: Dominic Xavier/Rediff.com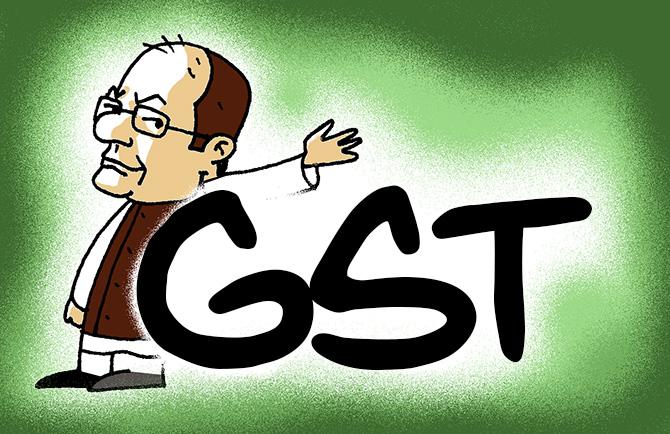 Now a year old, the Goods and Services Tax Network (GSTN) portal has drawn both praise and criticism.
Made operational on November 8 last year, it had covered all the states by March 2017 in terms of registration and given out provisional identifications to taxpayers, much before the GST rollout in July, say officials.
However, tax filers had to face a number of issues with the portal.
The system crashed a couple of times in September, which led to the setting up of a group of ministers to examine why and what to do, led by Bihar Finance Minister Sushil Modi.
"The journey has been both exciting and challenging," says Prakash Kumar, chief executive, GSTN, the information technology network for the new levy.
Many blame continuous change in the GST laws for gaps on the portal, not GSTN itself.
The GoM had identified 27 technical glitches on the portal, which it wanted Infosys, which had won a contract to maintain GSTN for five years, to fix by end-October.
However, only 18 of these had been operationalised by the deadline.
Kumar refuses to call these glitches. "First of all," he says, "these are not glitches. There were lots of functionalities they (the GoM) asked us to incorporate or make available. They wanted certain new things to be added or certain others to be expedited on the portal."
Kumar terms these as priority items the GoM had identified.
"Of that, two-thirds were completed by that date. Most of the remaining ones will be completed by the time the GoM meets next," says Kumar.
Others say GSTN should be given more time to prepare itself.
Bipin Sapra of the consultancy EY says GSTN has had to provide a compliance portal for an evolving and complex law; more time is required to get the system right.
"It makes sense to give GSTN the due time by maximising the compliances for the next six months and allowing the portal to reach its true potential," Sapra adds.
Rshmi Khetrapal, founder of Countmagic, a GST software company, says though the creation of the portal and implementation of the taxation system created initial hiccups, the move has over time been accepted and appreciated by accountants and businesses, across sectors.
GSTN had crashed in September when the initial deadline for the July returns was approaching.
GSTN officials explained that a tax filer had submitted around 2.5 million invoices; in each, he gave the receivers' numbers.
The GSTN system had a mechanism whereby filers have to first put the tax identification number (TIN) and then details of all invoices relating to that number.
For instance, if you have 5,000 invoices relating to a particular buyer, you put the TIN of that buyer and then those invoices.
GSTN had fixed this issue by September 8 night, but by that time, all the damage had been done, they say.
The government has had to postpone the filing of returns for July a number of times.
Even last month, the last day for filing of input returns, GSTR-2, was put off to November 30, from October 31.
Also, the deadline for filing input-output returns, GSTR-3, was postponed to December 11, from November 10.
Kumar says the deadline for filing these returns was extended on requests from businesses.
"There are no glitches on our portal," he asserts.
Told filers face issues in input-output matching, he says the latter cannot be attributed to the portal.
"If you are a buyer and I am a seller, I upload my business-to-business data for sales made to you on GSTR-1," the GSTN chief explains.
"It automatically gets reflected on your GSTR-2A. You have to accept it or reject it."
"It (a mismatch) can't be attributed to us. Our portal has no challenge on this."