Record sugar output has also yielded molasses production way beyond market demand and plant capacity of state distilleries and country made liquor units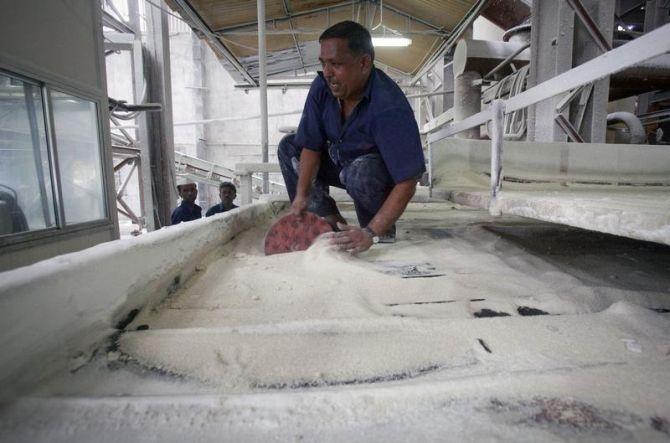 The sugar mills in Uttar Pradesh, which are already facing the prospects of sugarcane arrears default due to their eroding paying capacity over falling prices and market glut, are also saddled with humongous quantities of unsold molasses, a sugar by-product, in their premises.
The situation in other sugar producing states is no different, where mills are also feeling the pinch of market glut and subdued takeaway of the stock.
Record sugar production in UP in the current season, which is inching towards 12 million tonnes (MT), has also resulted in record molasses output of over 4.88 MT, far exceeding the market demand and the installed capacity of the state distilleries and country made liquor units.
However, Tamil Nadu and Telangana are facing shortage of molasses, while there are ready buyers for molasses in Odisha, an industry source said.
With the crushing season still on, the molasses production would further add up to unsold inventory, while the prices of molasses have fallen to rock bottom due to record production, low demand and restriction on sale as well.
Owing to the glut, the prices of molasses have crashed. They were about Rs 800 a tonne in October-November 2017 but now mills are virtually getting nothing from its.
Molasses is processed to produce ethyl alcohol and methyl alcohol. Ethyl alcohol is used for producing industrial chemicals, while denatured alcohol becomes ethanol. Methyl alcohol is used for making liquor by distilleries.
Currently, the UP sugar mills have unsold molasses stock of over 2.62 MT, including about 0.43 MT of reserved stock, which have not been lifted by country made liquor manufacturers.
The mills have demanded the Yogi Adityanath government to allow for free and open sale of molasses, so that it not only empties their premises of the stock, but allow them to clear a part of the farmers' sugarcane arrears out of the sale proceeds.
At present, the state mills have run up outstanding of over Rs 120 billion and counting.
While, UP Sugar Mills Association (UPSMA) has been petitioning the state to tinker with the molasses sale policy for providing succor to industry, recently another representation was handed over to the excise department principal secretary apprising her of the "crisis situation in disposal of molasses."
Although on paper, molasses export to other states is allowed in UP, yet every consignment needs written permission from the state excise commissioner, while the department also cross checks with the buyer, thus rendering the whole process complicated and time consuming.
"The unsold molasses degrades overtime both in quality and realisation value. Besides, it also poses pollution risk as mills have already run out of the storage space due to high production and non-lifting of stock, and therefore it is being stored in kachcha pits dug in the ground," a senior UPSMA official told Business Standard.
The mills have urged the government to immediately allow conversion of un-lifted molasses stock to unreserved category and allow free export to the other states, which are in short supply of molasses.
Besides, since molasses output level has breached the target of 4.55 MT set for the current season, the mills have demanded that the mandatory fixed quota for distilleries at 12 per cent be abolished, since there was excess stock available.
At the same time, permission is required for transfer of molasses for ethanol and such applications in large numbers by mill had been pending with the state excise department, which need to be processed urgently, the UPSMA has underlined.
UP has achieved the target of about 8.5 per cent ethanol mixing with fuel due to high molasses output.
If the state government further boosts ethanol mixing in fuel to the ceiling of 10 per cent, then it would help mills generate extra revenue and pay farmers' arrears.
Ethanol is currently fetching about Rs 40-41/litre for mixing with fuel.
The Centre has already liberalised the ethanol mixing policy and put it in the concurrent list, but UP is yet to notify the same, while Gujarat, Maharashtra, Karnataka have already notified it.
Meanwhile, the Association has claimed if mills were unable to clear their present molasses stock soon, it would be difficult for them to start their crushing operations next season 2018-19.
Photograph: Vivek Prakash/Reuters