'Investors should try to track volume and value growth in different segments to be able to know which companies are benefiting the most from the affordable housing initiative.'
Sanjay Kumar Singh finds out what an investor should do.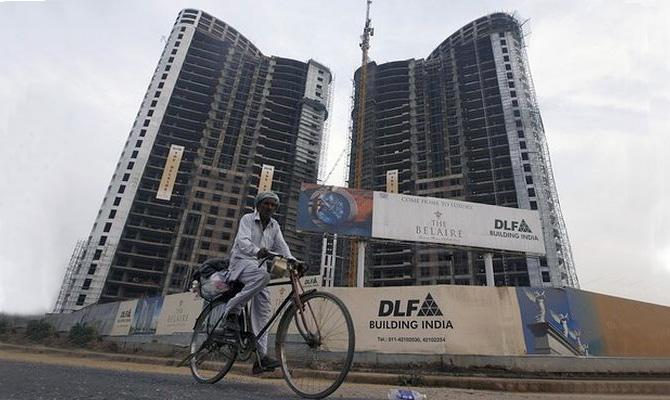 Real estate stocks are currently on a roll. After giving negative or low returns from 2013-2016, the Nifty Realty Index is up 91.14 per cent, making it the best performer year-to-date.
Attributing the current bullishness about real estate stocks to the government's push to the affordable housing segment, experts emphasise the need for investors to evaluate stocks carefully, given the sector's problems like high inventory and stagnant prices in many markets.
The primary factor responsible for this rally is the fillip provided by the government to budget housing.
"1.1 million houses have been already approved under Prime Minister Awas Yojana (PMAY) so far in 2017-18 versus 1.2 million in the whole of 2016-17. The Centre has already committed Rs 444 billion to achieve its 'Housing for all' programme. These steps towards affordable housing have lifted investor confidence in realty stocks," says Anita Gandhi, whole-time director, Arihant Capital Markets.
Adds Rakesh Tarway, head of research, Reliance Securities: "The market is factoring in the volume growth that has already happened and is further expected in the affordable housing segment due to the sops given by the government both to developers and buyers through PMAY."
The recent hiking of carpet area by the government under the scheme is expected to boost demand further.
The sector is also expected to witness consolidation after the implementation of the Real Estate (Regulation and Development) Act (RERA).
Smaller developers may find it difficult to survive in the stricter post-RERA regime: No pre-launches, 70 per cent money to be deposited in escrow account, harsh penalties for delays, etc. The larger, better organised, tier I developers are expected to gain market share.
"Tier I developers stand to benefit from RERA. In future, most of the supply will come from them. They have the land banks and the ability to attract institutional money. In the 200-odd private equity deals that happen in a year, most of the money goes to top-rung developers. Due to their track record for quality and timely delivery, they get a good response when they launch a project, and don't have to bring down their prices even in the current market," says Ankur Dhawan, chief investment officer, PropTiger.com.
Investing in this sector, however, entails several risks.
"An increase in interest rates and job losses, which lead to volume de-growth, would be negative. Moreover, the higher value segment is not doing well," says Tarway.
Investors should try to track volume and value growth in different segments to be able to know which companies are benefiting the most from the affordable housing initiative, suggests Tarway. He, however, admits that this is difficult as companies don't provide numbers in such granular details.
He adds that investors should avoid heavily-indebted companies and go with groups that have a track record of having managed other businesses well.
"Since they have managed other businesses well, there is a higher probability that will manage the real estate business also well," says Tarway.
Since real estate is a localised play, investors should focus on the markets the developer's upcoming projects are situated in. Some markets, like Noida and Greater Noida (part of the NCR), have higher levels of inventory, hence prices may take longer to recover there.
"If a company's operations are concentrated in areas where the market is down, its prospects are likely to be affected," says Gandhi.
Price-to-earnings ratios for leading stocks vary widely from the high teens to above 100. "Valuations are a bit stretched within the sector," says R Sreesankar, head-institutional equities, Prabhudas Liladher.
Adds Gandhi: "Pay higher valuations only for stocks which you think are capable of achieving faster earnings growth."
Image used for representational purpose. Photograph: Reuters.