According to RBI's circular, cases of frauds involving more than Rs 25 crore and up to Rs 50 crore should be given to the CBI's Banking Security and Fraud Cell
Illustration: Uttam Ghosh/Rediff.com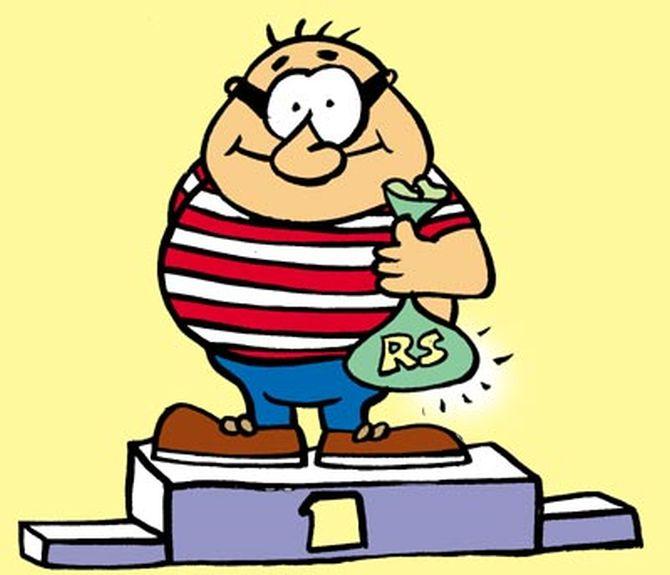 The monetary threshold for public sector banks to report frauds to different departments of the CBI for a probe has been revised, according to the Central Vigilance Commission (CVC).
Frauds of minimum Rs 3 crore and upto Rs 25 crore, up from Rs 15 crore, have to be reported to either CBI's Anti-Corruption Branch (in case staff involvement is prima facie evident) or to the Economic Offences Wing (if employees involvement is prima facie not evident) respectively, the CVC said in its latest directive to all the state-owned banks.
The CVC has cited a circular from the Reserve Bank of India (RBI) and asked the banks to comply with it.
According to RBI's circular, cases of frauds involving more than Rs 25 crore and up to Rs 50 crore should be given to the CBI's Banking Security and Fraud Cell (BSFC), irrespective of the involvement of a public servant.
The BSFC is a specialised unit of the Central Bureau of Investigation (CBI) to probe big-ticket bank fraud cases.
The cases of more than Rs 50 crore should be lodged with the joint director (policy), CBI, the central bank order said.
The commission would clarify that the monetary limits, as prescribed in RBI's master circular, should be followed for reporting financial frauds to local or state police and the CBI by all public sector banks.
Frauds between Rs 10,000 and up to Rs 100,000, if committed by staff, should be reported to the state police.
In cases of frauds of Rs 100,000 and below Rs 3 crore need to be registered with the state CID or the economic offences wing of the state concerned, according to the RBI's order mentioned by the CVC.
For private sector and foreign banks, frauds worth Rs 10,000 and above (if committed by staff) need to be reported to the state police.
In cases of frauds of Rs 100,000 and above, if committed by outsiders on their own or with the connivance of bank staff/officers, also need to be reported to the state police concerned for the investigation, it said.
The frauds of Rs 1 crore and above should be reported by the private sector and foreign banks to the Serious Fraud Investigation Office (SFIO) in addition to the state police.
The move assumes significance as central investigating agencies such as the CBI and the Enforcement Directorate are looking into various big fraud cases in banks involving industrialists and others.
Among the prominent ones is the over Rs 13,000-crore fraud in the Punjab National Bank (PNB) allegedly involving jeweller Nirav Modi and his uncle Mehul Choksi, the promoter of Gitanjali Gems.
© Copyright 2021 PTI. All rights reserved. Republication or redistribution of PTI content, including by framing or similar means, is expressly prohibited without the prior written consent.