With cars like the Toyota Corolla and the Honda Civic selling in very small numbers and potentially even being phased out, the Octavia has very little competition, says Pavan Lall.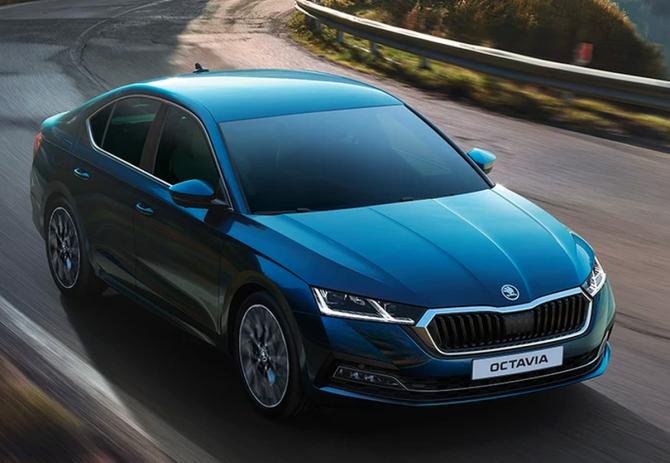 Almost 20 years after it was launched in India, the Skoda Octavia stands refreshed, renewed and totally reinforced as a premium executive sedan with little or no comparison in its segment.
In fact, the L&K version that I drove has actually gotten features and amenities that would embarrass other German premium cars that are a full price point and category higher.
It's no secret that sedans, especially premium ones, haven't fared too well in the subcontinent.
In the last decade, several manufacturers including Toyota and Honda have either withdrawn their premium offerings in that segment or scaled back.
Examples include the Honda Accord, the Kizashi by Maruti Suzuki, and the Toyota Camry.
The dwindling numbers are partly because of the off-take of SUVs and partly thanks to the presence of few worthy cars in the sedan segment.
Skoda is set to have its say now.
The new fourth generation Octavia's interiors feature suede upholstery on the dash, which comes as a surprising but pleasant accoutrement that is unique.
The only other car-makers in recent memory to use materials on the dash are Ferraris and Lamborghinis.
Then, the easy-to-use and innovative gear shift controls -- that involve a simple airplane cockpit-style lever you can push up or down to move into neutral, drive and reverse -- seem like they ought to be made mandatory in most luxe cars. Because the ones that use gears near the driving wheel are tedious at the best of times.
The drivetrain is smooth, almost like it has been parachuted from an Audi and transplanted into the Octavia because it feels eerily refined, powerful and competent on city streets.
It's backed by a 195 bhp engine, almost best in class in terms of get-up-and-go.
Push the Octavia's pedal on the highway and it demonstrates how effortless driving the large heavy sedan is.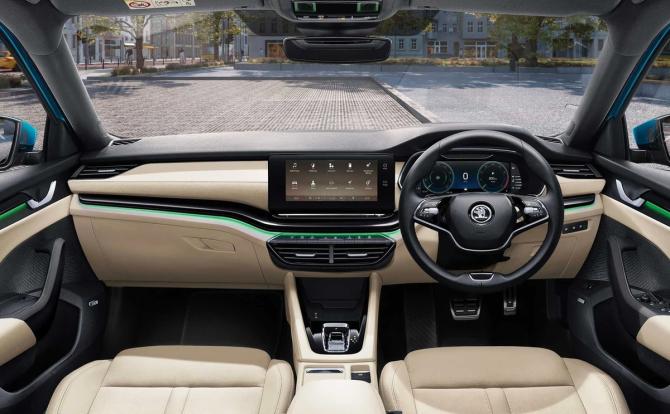 This Octavia gets a 10.25-inch virtual cockpit digital instrument cluster, a 10-inch touchscreen infotainment system, three-zone climate control, connected car tech, a digital assistant and wireless smartphone charging.
It is powered by a 190hp, 2.0-litre TSI turbo-petrol engine hooked up to a 7-speed dual-clutch automatic gearbox.
Unlike the older version, which came with a 143hp, 2.0-litre diesel motor, the new sedan will skip diesel in line with the transition to BS6 norms.
Kitted out in its 17 inch rims on wide road-gripping tyres the top trim of the second largest sedan that Skoda makes has undergone a transformation.
From being a strong, well-built car known for devouring potholes and uneven tarmac to a refined luxury model that can go neck and neck with almost any sedan on any metric -- be it power, performance, ride quality, luxury, handling, and even design.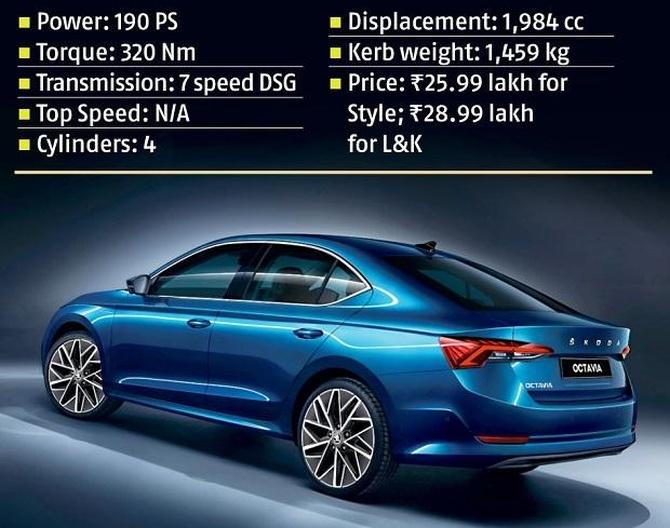 With cars like the Toyota Corolla and the Honda Civic selling in very small numbers and potentially even being phased out, the Octavia has very little competition.
The only sedan large and competent enough that is close to its class is the Hyundai Elantra.
Loaded with technology and a driver's delight, if there is a point of concern it's that the price is a bit too close to those of the German trio (Mercedes-Benz, Audi and BMW).
And that's one factor that may dissuade potential consumers from taking a chance on the Octavia.
The other is its history of being an expensive car to maintain.
Repair could play spoilsport if that hasn't been fixed and rationalised.
Skoda says that it has, but with new cars time is the best judge. But for now, this is a terrific sedan, one way or the other.
Feature Presentation: Rajesh Alva/Rediff.com