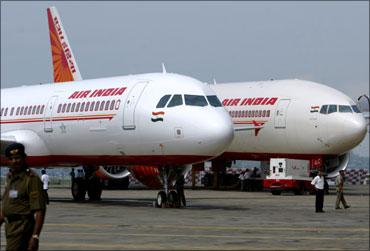 There's a sense of relief and hope at Air India with the appointment of Vayalar Ravi as the new minister for civil aviation.
"We hope the airline will get a level playing field with hopefully no interference in the running of the airline," said a person close to Air India.
It is alleged that Air India never got a level playing field, when it came to allotment of terminals, lounges, or check-in counters at airports.
"It never got the place it deserves, and this feeling ran deep in Air India's psyche," said the person quoted earlier.
It is alleged that Air India was often forced to withdraw its flights from certain sectors just when a private airline was about start service on a route.
A case in point is when Spicejet launched its service on Chennai-Colombo route.
The absence of a level playing field, say observers, had a negative effect on Air India's employees.
Experts feel that Air India will now be able to take decisions in its interest with regard to leasing of aircraft rather than be forced by an 'over-powering minister.'
They feel it did not make sense for it to take 50 more aircraft on lease when it can't pay its salaries.
Yet, it would have been difficult for the airline to get Rs 2000 crore (Rs 20 billion) of equity infusion but for the former aviation minister Praful Patel's perseverance, says an observer.
The Air India management was not available for comments and was in a board meeting.
Though
several steps like the merger with Indian Airlines or the setting up of strategic business units had merits, it is alleged that Patel did not allow them to function.
It is alleged Patel failed to take decisions which were critical to Air India's success.
"Nothing happened, whether it is the launch of domestic budget carrier, or creation of an MRO or ground-handling company.
"Patel was an over-powering minister, who just dictated what needs to be done, in terms of purchase of aircraft, mergers or operations; where to operate, which flights to withdraw or leasing of aircraft," said an airline expert.
The fate of several high-profile independent directors, Anand Mahindra and Fali Homi Major, Harshavardhan Neotia and Amit Mitra, also hangs in balance as they were seen as close to the former minister, said a person close to the airline.
"While the aviation sector boomed during Praful Patel's era, the one big negative was the consistent downfall of Air India, which would negate his achievements to quite an extent," said an aviation expert.
When Patel assumed office, Air India was the market leader; today it has slipped to the fourth position and has the lowest load factors.