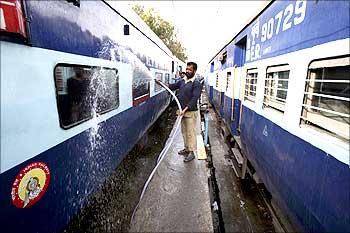 Indian Railways will launch a special train next month to cover various Sikh shrines in the country to cash in on the success of luxury trains on the religious routes catering to overseas tourists.

The 'Takht Express' would be launched on December 23 from Chandigarh.

It would cover six sacred destinations for Sikhs, including Amritsar in nine days, Rakesh Tandon, managing director of the Indian Railway Catering and Tourism Corporation said in Beijing.

Tandon was speaking at a get together organised for Chinese travel agents, media and officials of Buddhist shrines in Beijing on Monday to popularise 'Mahaparinirvan Express' being
run on the Buddhist circuit in India and Nepal.
He said the train covering Sikh shrines was being launched following the high demand for such trains in religious routes.
The IRCTC along with the Indian Embassy and India Tourism department, Beijing, organised the event to highlight the popularity of the Mahaparinirvan Express among the Buddhist all over the world as it covered most important places sacred to Buddhism.
Starting from Safdarjung railway station in New Delhi the Mahaparinirvan Express covers Budhgaya, Nalanda, Rajgir, Varanasi, Sarnath, Lumbini, Sravasti, Kushinagar and Agra.
The event was organised to mainly popularise the train in China which has a large number of Buddhist population.