Budget planners for now have been told to prepare with the assumption that GST will apply from April 1, Arup Roychoudhury/Business Standard reports.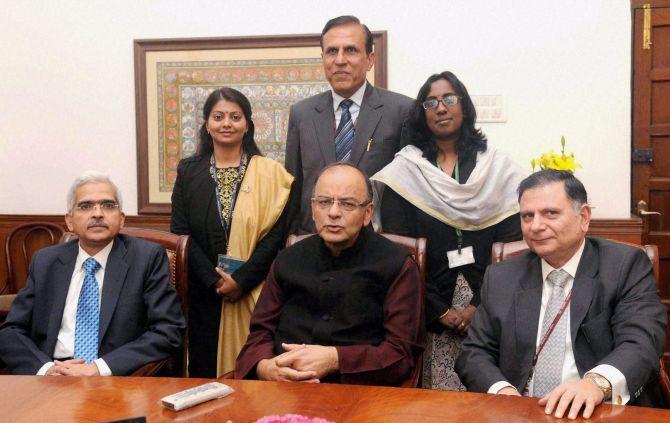 The most structurally changed Budget in Independent India could be led by a speech unlike any one read in the past.
Not only will the Union Budget have a much shorter section on taxation announcements, it will also contain railways proposals for the first time.
Besides the date being advanced to February 1, it will be the first Budget to be presented after the end of the Five Year Plan period concept.
The other firsts, when Finance Minister Arun Jaitley reads the speech for the Budget 2017-2018, will include classifying the Centre's spending into revenue and capital expenditure rather than plan and non-plan.
Besides, it will be the first Budget for a new tax regime if goods and service tax is implemented from April 1.
It will also be a unique speech in that it is likely to revolve around the Narendra Modi government's demonetization drive.
With exactly two months to go for D-Day, and North Block, which houses the finance ministry, starting its secrecy drive to keep all information related to Budget under close guard from December 1, officials told Business Standard that preparations were on in full swing for the new-look Budget.
For starters, Part B of the speech, which presents taxation proposals, may only have announcements related to direct tax and customs.
Senior government officials said that if GST was to be implemented by the beginning of the next financial year, there could be no indirect tax proposals in the Budget.
As things stand, GST is likely be notified separately and not as part of the Finance Bill if it is set for an April 1 launch.
For now, the Budget planners have been told to prepare under the assumption that the nationwide tax will be applicable from April 1, 2017, and will be notified separately.
This means that the usual announcements on levy on cigarettes and other tobacco products, high-end cars and other luxury items, 'white' goods such as air conditioners, etc, and service tax exemptions, will not be a part of the Budget speech.
The taxation proposals of the last three Budgets, 2016-2017, 2015-2016, and 2014-2015, spanned 10, 8 and 10 pages respectively.
Budgets in the past have had anything between 30 to 40 indirect taxation proposals, including customs.
A shorter Part B will make room for a longer Part A, in which the expenditure and non-tax revenue announcements are made.
By the looks of it, Jaitley will need it.
The theme of the Budget is likely to be about benefits to the common man after the 'pain' of demonetisation.
The FM is likely to reiterate the prime minister's attempts to weed out black money and provide a boost for sectors including healthcare, education, agriculture and medium, small and micro enterprises.
Since the Rail Budget will be merged with the Union Budget, there could be around two pages on railway projects and announcements, sources said.
The practice of not announcing new trains, started by Rail Minister Suresh Prabhu, is likely to continue.
The focus on flagship schemes, like Rural Employment Guarantee Act, agriculture schemes, direct benefit transfer, Swachh Bharat, start-up India, etc, will stay.
The Budget-makers are also looking at a third straight year of record infrastructure spending in 2017-2018 at a time when private sector balance sheets are still weak.
IMAGE: Union Finance Minister Arun Jaitley with Finance Secretary Ratan P Watal and Secretary (Economic Affairs) Shaktikanta Das, seated, and other officials. Photograph: PTI Photo