Policy for 2015-2020, to be unveiled on April 1, will also emphasise services exports, more use of FTAs
The government is set to unveil the long-awaited new Foreign Trade Policy (FTP) for five years — from 2015 to 2020. The policy, poised to be "different" from previous such policies, will emphasise promotion of manufacturing and services exports and strive for greater use of free trade agreements (FTAs).
The FTP, set to be unveiled on April 1, seeks to offer an incentive package for the exporting community.
Typically, it is typically released for five years, with annual supplements revising the sops offered to exporters, depending on domestic and global factors. "The new Foreign Trade Policy will be for 2015-2020.
This time, the policy is going to be different. We have taken a calibrated and open-ended approach to strengthen our exports," Commerce and Industry Minister Nirmala Sitharaman told Business Standard.
The new FTP was delayed by a year, as it had to be in tandem with Prime Minister Narendra Modi's Make in India, Digital India and ease-of-doing-business initiatives, said commerce department officials.
They added the delay was primarily because last year's Budget wasn't a full-fledged one; it was only for eight months.
As such, the government was left with small fiscal space to squeeze in various types of export-oriented incentive schemes. "The policy had to be given a financial connotation, which was not there last year.
Since the government came to power in May and the Budget was passed in July, it wasn't clear how much the export sector would get," said an official.
This time, it is unlikely the government will set specific export targets. Besides, through the past few years, the FTP has been more favourable towards exports compared to imports.
Bucking the trend, this time, the government might announce measures to promote value-added imports.
This year, the thrust will primarily be on manufacturing exports and services exports. Within manufacturing exports, the government will chart out a strategy to promote the key sectors of engineering products, electronic goods and textile exports.
Within services, a host of incentives are likely to be rolled out to sectors such as tourism, hospitality, education, etc, which might be promoted in the form of project exports from India.
Sanjay Budhia, chairman of the National Committee on Exports and Export Competitiveness at the Confederation of Indian Industry, said, "The government should view the exports sector as an engine of growth and give it due importance.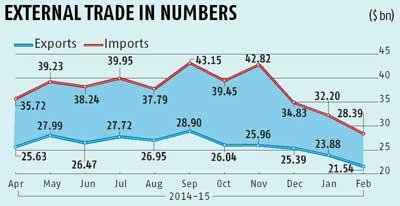 We need to retain our existing markets, as well as new markets, in line with the prime minister's Make in India vision.
Besides, this year, the government should bring top exporting sectors under the purview of the Focus Market Scheme and provide interest subvention to these sectors."
The Focus Market Scheme is an incentive package under which exporters are entitled to duty credit scrip equivalent to three per cent of the free-on-board value of exports in free foreign exchange.
This year, the FTP is also expected to put greater emphasis on more utilisation of FTA and other multilateral arrangements such as regional comprehensive economic partnerships.
Apparently, after an internal study by the Ministry of Commerce and Industry, it was found the utilisation of FTAs was the lowest in India compared to its partner countries. As a result, exporters lost out in markets with which India had such bilateral arrangements.
In line with commitments made at the World Trade Organization, the FTP is expected to announce measures on how to achieve greater movement of goods and services, in line with the trade facilitation agreement signed last year.
For April 2014-February 2015, exports stand at $286.58 billion, compared with $314.40 billion for 2013-14.