For now Walmart has said it remains optimistic about India. But that could change without prior notice, says Nivedita Mookerji.
Illustration: Dominic Xavier/Rediff.com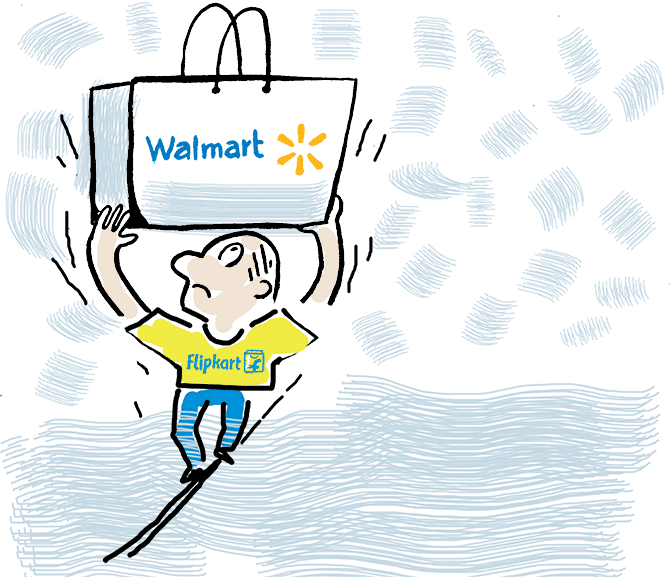 American brokerage firm Morgan Stanley put out a warning note recently that Walmart may exit Flipkart, similar to what Amazon had done in China, if there's no clear path to profitability.
While Flipkart chief executive Kalyan Krishnamurthy countered that theory immediately in a communication to the company employees, it's surprising that Morgan Stanley mentioned Amazon's exit from China but not Walmart's from several foreign markets over the years.
Even though a few changes, however life-changing they may be, in the e-commerce rules may or may not make the American retail major leave India, exit is nothing new for Walmart.
Last year, it realised that it was tough to win the UK market alone.
So, it sold a majority stake in its UK arm ASDA to the UK's second biggest supermarket chain Sainsbury for around $10 billion.
It was around the same time that it was buying a controlling stake in Flipkart for $16 billion.
Brazil was yet another market where it sold some 80 per cent stake to private equity firm Advent International as recently as in June 2018.
While it wanted to beat the top player Tesco in the UK through the deal with Sainsbury, the move in Brazil was prompted by an under-performing business.
Walmart's exits had started more than a decade ago when it didn't have a good going in Germany and South Korea.
China hasn't been a great story either for Walmart till it partnered with JD.com to take on Alibaba.
In Japan too, it recently withdrew from general merchandise retailing so that it could use its resources more effectively in other geographies.
There have been other break-ups as well, including the one with the Bharti group a few years ago, though Walmart stayed on looking for a better future in India. And then Flipkart happened.
That brings us back to the current confusion over Walmart's India plans.
If conspiracy theories are to be believed, the American major has not exactly been on top of the world after the much anticipated Flipkart deal due to shareholders' concern.
According to one such theory, Walmart may have been looking for a way out of the deal soon after its shares plunged and market cap eroded.
A ''no'' from the Competition Commission of India (CCI) may have provided the company an escape route, but Walmart swam through the regulatory processes.
There was no doubt then that the biggest retailer of the world was here to stay in India, though its multi-brand retail dreams had been shattered long ago.
Online looked like a safe bet despite some fringe protests by trade bodies against international hold over e-commerce companies and deep discounts that they were offering.
Once the Flipkart founders -- Sachin Bansal and Binny Bansal -- were out of the scheme of things, Walmart had settled down to compete with Amazon and plan things ahead of Reliance's entry into e-commerce.
But the e-commerce universe turned upside down when the government issued revised foreign direct investment (FDI) guidelines that meant doing the online retail business in a completely different way from February 1.
Walmart-owned Flipkart and Amazon were at the receiving end, while domestic traders' bodies such as CAIT claimed victory as the government refused to even extend the February 1 deadline.
The most obvious interpretation was that the government didn't want to annoy domestic traders' lobby, a large voter base, ahead of a crucial Lok Sabha poll.
After all, throughout its term, this government held on to its promise made to the traders back in 2014 that FDI wouldn't be permitted in multi-brand retail.
In the middle of all the chaos when Amazon and Flipkart (Walmart) are busy restructuring sellers and products on their respective marketplace platforms to comply with the latest e-commerce rules, conspiracy theorists are again wondering if the regulatory changes may offer an escape route to the international majors from a market that looks tough to operate in.
As foreign investors depend more rigidly on board approvals for every investment and business decision, policy stability is critical to them.
A continuing policy flip flop, like the one in e-commerce currently, could possibly force them to look out.
For now, Walmart has said it remains optimistic about India.
That could change without prior notice.
Flash back to October 2013: Then Walmart Asia chief executive Scott Price had chosen Bali to famously say, "Frankly, the FDI has passed".
That ended a partnership that had begun on long-term promise.
Exit, whether partial or full, is not uncommon for any business, including in retail.
Tesco, Walmart, Carrefour and others -- everyone has done it routinely. And it can happen again.