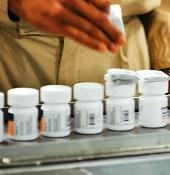 The new drug price control policy that has recently been notified is likely to be a boon for consumers as it will put an end to the 'arbitrary' pricing regime and bring down medicine prices, say pharma sector players.

"We welcome this move as it ends the uncertainty on the pricing policy that has been stuck for so many years.

"The shift to a market-based price control model is commendable as it puts an end to the arbitrary pricing regime.

"The consumer stands to benefit with lowered prices of medicines," Dr Reddy's Vice-Chairman and MD Satish Reddy said here.

Last week, the Department of Pharmaceuticals had notified the Drugs (Prices Control) Order 2013 under which prices of 348 medicines in the National List of Essential Medicines have been brought under price control, thus replacing an earlier order of 1995 that regulated prices of only 74 bulk drugs.

The DPCO proposes that retail price of 348 drugs will be fixed at the simple average price of brands that have more than 1 per cent market share.

However, the government will have to strike a balance between improving affordability of medicines and the growth of Indian pharmaceutical industry, which is heavily dependent on investments into R&D,
Reddy said.
"At a company level, we were aware of the upcoming policy and have factored in the impact which is likely to be in the range of 3-4 per cent of our finished dosage sales in India.
"We have plans in place to ride over this impact", he said.
IMS Health (South East) General Manager, Amit Backliwal, feels that about 2.2 per cent of the total value of the current pharmaceutical market is likely to be eroded once DPCO 2013 is implemented.
"Based on DPCO 2013, IMS Health has estimated that the value erosion of the pharmaceutical market would be to the tune of Rs 1,600 crore or Rs 16 billion the current pharmaceutical market), post implementation," Backliwal said.
The scope of the National List of Essential Medicines Pricing Policy is likely to cover 18per cent of the retail pharmaceutical market.
"We don't believe that the policy in its current form is negative.
"The policy is based on average price mechanism and thus follows competition. Given the price competition, the policy is unlikely to have any major negative implication for the sector," Angel Broking Analyst Sarabjit Kaur Nangra said.
However, MNC players might be impacted the most compared to their domestic counterparts, Nangra said.