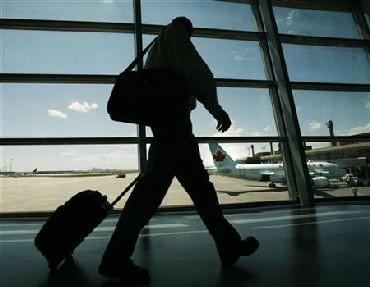 Proposal to cap additional fees other than base fare and government taxes will bring respite
Indian air travellers would be happy to know they are in a better position as compared to foreign counterparts.
For one, most Indian airlines offer refundable tickets, while most foreign ones don't.
Also, charges on excess baggage are less than what is charged by foreign airlines.
Foreign airlines charge $100-200 or euro 75-150 for excess baggage, while Indian airlines charge Rs 300-500 per kg above 15 kg.
With the civil aviation ministry has proposed to bring excess baggage charge to Rs 100 for five kg, above the 15 kg free limit, things could get even cheaper.
There is also a proposal to reduce cancellation fees and raise compensation paid to passengers in case of not being allowed to board. Currently, these numbers stand at Rs 2,000-4,000 depending on the duration of the flight. It is proposed to increase this to Rs 5,000-10,000.
These measures are expected to bring in transparency and ensure that airlines don't resort to over booking of flights or cancel flights at the last minute.
Typically, the mandatory charges on an air ticket include base fare and government taxes.
Additional charges include convenience fee for online booking, fees for excess baggage, seat selection, food, cancellation, rescheduling or changing flight, seat upgrade, name change, stretcher, sport equipment and no-show charges.
For instance, on a Mumbai-Bengaluru flight for July 22, the base fare was Rs 1,519, the surcharge Rs 841 and the fare totaled Rs 2,360.
This is for a full service carrier. This is on the lowest economy.
However, if you cancel the ticket, you lose all the money as the airline has a cancellation charge of Rs 2,500.
Similarly, if you want to change the date, they charge you Rs 2,250. "In case of a non-refundable ticket, you only get your statutory taxes refunded, while on refundable fare the cancellation charges are charged and the convenience fee is not refunded," says John Nair, head –corporate travel, Cox and Kings.
It also depends on when you decide to cancel tickets, says Neelu Singh, chief executive officer and director, Ezeego1.com.
If the tickets are cancelled or if the passenger does not show up, then only government taxes are refunded.
If the base fare plus fuel charge is lower than the cancellation charges, then the entire base fare plus fuel charge will be deducted as cancellation fee.
In such cases, the government's proposal that cancellation charge should not be more than the basic fare will help.
Also, airlines should not levy additional charge to process the refund.
And in case of 'no show', statutory taxes, user development fee/airport development fee/passenger service fee should be refunded.
"The capping will make it easier for customers to understand because different airlines have different charges and off late they have been increasing," says Amit Taneja -- chief revenue officer at Cleartrip.com.
If the ticket is booked through an agent or an online portal, there could be a variable handling fee depending on agency and client.
Airlines also charge convenience fee of Rs 100-200, which includes credit, debit, internet banking charges, web fee for online transactions, airport ticketing counter charges, etc.
Preferred seat charges are Rs 500–800 and are applicable for customers choosing a seat with more leg room and convenience, with wider seat pitch and located near the exits.
This also varies on the choice of destination, says Singh.
"The aim is to discourage airlines from cancelling flights and excessively overbooking.
"So if compensation is high airlines will make efforts to operate the flight.
The proposed amount will at least cover the cost of trying to arrange alternate modes of transportation," Taneja says.