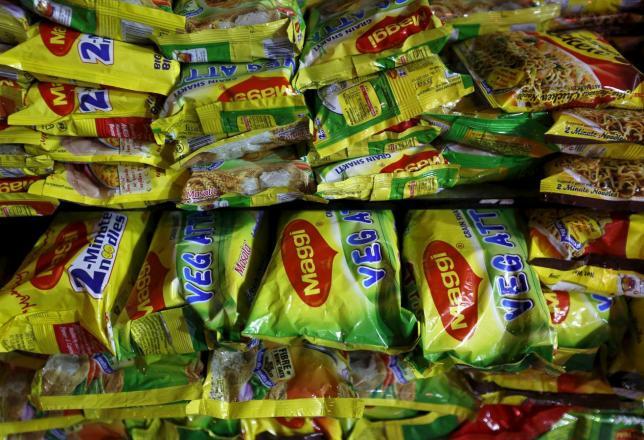 Swiss giant Nestle on Wednesday said government approved labs have found the newly manufactured samples of instant noodles Maggi safe and the company will start retail sales of the popular snack this month.
All samples of the newly manufactured batches from its three plants - Nanjangud (Karnataka), Moga (Punjab) and Bicholim (Goa) - have been cleared by three NABL accredited labs, as mandated by the Bombay High Court.
"Now that the orders of the Bombay High Court have been complied with, we will make our best endeavor to commence the sale of MAGGI Noodles Masala within this month as well as continue engaging with states where permissions are needed or specific directions may be necessary," Nestle India said in a statement.
Nestle is also working on starting manufacturing of Maggi Noodles at its two other plants - Tahliwal and Pantnagar. "...for the other two locations at Tahliwal and Pantnagar, we are engaging with the relevant authorities in Himachal Pradesh and Uttarakhand to obtain directions for commencing manufacture of MAGGI Noodles," it added.
Nestle India said it has conducted over 3,500 tests representing over 200 million packs in both national as well as international accredited laboratories and all reports are clear.
In addition to these, various countries including USA, UK, Singapore, Australia and others have found MAGGI Noodles exported from India safe for consumption.
"We have received results from all three NABL (National Accreditation Board for Testing and Calibration Laboratories) accredited laboratories mandated by Bombay High Court to test newly manufactured MAGGI Noodles samples. All the samples of the MAGGI Noodles Masala have been cleared with lead much below permissible limits," it added. .
On October 26, Nestle India had said it has resumed manufacturing of the instant noodles Maggi and they will hit the markets after getting clearances from food testing labs.
In June, the FSSAI had banned Maggi noodle products saying it was "unsafe and hazardous" for consumption after finding lead levels beyond permissible limits.
The company had withdrawn the instant noodle brand from the market.
Nestle India, which took a hit of Rs 450 crore or Rs 4.50 billion, including destroying over 30,000 tonnes of the instant noodles since June when it was banned because of alleged excessive lead content, had stated that it would continue with the existing formula of the product and would not change the ingredients.
The Consumer Affairs Ministry had also filed a class action suit against Nestle India seeking about Rs 640 crore in damages for alleged unfair trade practices, false labeling and misleading advertisements.
It was for the first time that the ministry dragged a company to the National Consumer Disputes Redressal Commission (NCDRC) using a provision in the nearly three-decade-old Consumer Protection Act.
Reeling under the Maggi ban, Nestle India had on October 29 reported 60.1 per cent decline in stand-alone net profit at Rs 124.20 crore or Rs 1.24 billion for the third quarter ended September 2015.
Its net sales had declined 32.12 per cent to Rs 1,736.20 crore or Rs 17.36 billion as against Rs 2,557.80 crore or Rs 25.57 billion of the July-September quarter a year ago.
It had reported a stand-alone loss of Rs 64.40 crore in the second quarter (April-June) for the first time in the last 15 years, due to the ban on Maggi.
The Maggi issue had also impacted the bottomline of the parent firm Nestle SA.
The Swiss FMCG major had reported 2.5 per cent decline in its consolidated net profit at 4.51 billion Swiss Franc for the first half of 2015. Nestle sales in Asia, Oceania and sub-Saharan Africa (AOA) markets were "overshadowed" by the issue in India, it had said.