'We have a new PM who is working hard. I think we have to just give it time. We should all rally behind him.'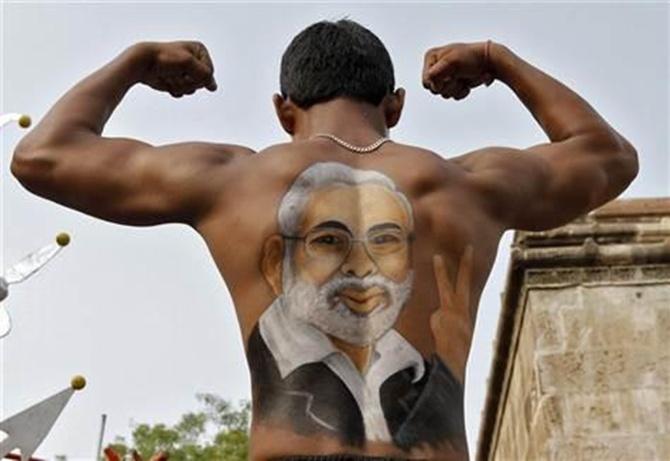 Infosys Co-Founder N R Narayana Murthy called upon bureaucrats, politicians and individuals to "rally behind" Prime Minister Narendra Modi and provide support to his government, as it goes about implementing its transformative agenda.
Murthy was speaking at the sixth annual lecture of the Competition Commission of India (CCI) on Wednesday. Murthy was asked about his views on the Modi government that is completing one year in office later this month.

"Let me say, we have a new government. We have a new prime minister who is very, very enthusiastic. He is working hard. We have a set of ministers who are aligned with him. I think we have to just give it time. We should all rally behind him. I mean individuals, political parties, those in opposition, bureaucrats at state level and central level, corporate houses, academic institutions, everyone. If we provide support, then I think we can move fast."
Murthy also left the bureaucrats present for the lecture with some key pointers that could help improve the economic sentiment in the country.

Every bureaucrat must reflect on what he or she did to reduce the friction between government and business every day, he said. Equally important for business to thrive is a "corruption-free judiciary" that is updated and knows global best practices.

The country also needs a taxation policy that is stable and transparent and easy to understand, said Murthy.
He also batted for the direct transfers of subsidies either in cash or through voucher payments for making available the basic necessities of education, nutrition, etc.
Murthy, however, did not elaborate on who will replace KV Kamath as chairman of the Infosys Board since Kamath has recently been appointed chief of the BRICS Bank.
On the revenue model and concerns over profitability of new age companies, he said modern technology models especially in retail or specifically e-commerce are being still debated on.

"People say they would take a long gestation period to become profitable. These companies also have important role models. So, we will have to contemplate on these business models, we will have to collect more data and show some patience, and then see how these models emerge," he said.

Murthy added that it is somewhat early to pass any judgment at this point in time about the future of these companies.