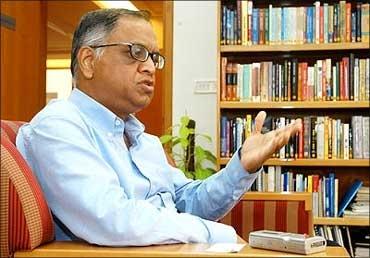 In a major top management re-shuffle, Infosys on Saturday said it has re-appointed N R Narayana Murthy as executive chairman and additional director with immediate effect.
The decision was taken at a board meeting held earlier in the day, Infosys said in a statement, adding the appointment will be with effect from June 1, 2013.
Veteran banker K V Kamath would step down from his position as chairman of the Board and take up the role of lead independent director, it added.
"The Board has taken this step keeping in mind the challenges that the technology industry and the company faces and in the interest of all stakeholders, particularly shareholders large and small, who have asked for strengthening of the executive leadership during this challenging time," Kamath said.
Murthy's entrepreneurial and leadership record and the long experience he has had as a technology pioneer makes him eminently qualified to lead the company and provide strategic direction at this point in time, he added.
S Gopalakrishnan, who was serving as the executive chairman, would be re-designated executive vice chairman and would primarily focus on key client relationships and broader industry issues, the statement said. S D Shibulal would continue to be the managing director and chief executive officer of the company, it said.
In August 2011, Kamath was appointed chairman, succeeding Murthy, who was made the chairman emeritus post his retirement. Also, the then CEO and MD S Gopalakrishnan (Kris) was elevated as the executive co-chairman, while COO S D Shibulal filled in Kris' position. The re-shuffle also marks the entry of the next generation of Infosys founder with Murthy's son, Rohan, joining the over $7 billion firm as his father's executive assistant.
Murthy intends to create the chairman's office to assist him during his tenure to function more effectively and has requested the Board to permit him to put together a team, which will include Rohan.
Murthy's appointment as a director would be placed for consideration of shareholders at the annual general meeting on June 15, 2013.
Global uncertainties have impacted performance of Infosys. Often considered a bellwether for the sector, Infosys has given lower-than-expected revenue guidance of 6-10 per cent growth, which is less than industry body Nasscom's estimate of 12-14 per cent growth for the Indian software services industry in FY2013-14.
Both Gopalakrishnan and Shibulal have requested that they draw a compensation of Re 1 per year and the Board has accepted their requests, subject to necessary shareholder and government approvals. If appointed, Rohan Murty's term as executive assistant to the chairman would be co-terminus with that of Narayana Murthy. Rohan has requested that he should also be paid only a token compensation of Re 1 per year.
Murthy, along with six fellow software engineers, established Infosys with about $250 in 1981. In the last 30 years, they have made it one of the most respected names in the software outsourcing sector.
© Copyright 2022 PTI. All rights reserved. Republication or redistribution of PTI content, including by framing or similar means, is expressly prohibited without the prior written consent.