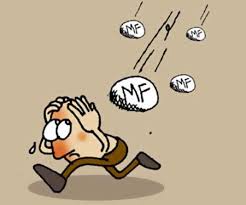 Improved market sentiments helped mutual funds' assets under management soar by Rs 80,000 crore (Rs 800 billion) or nine per cent to Rs 9.85 lakh crore (Rs 9.85 trillion) in the first quarter of the current fiscal.

The country's 44 fund houses together had an average AUM of Rs 9.85 lakh crore (Rs 9.85 trillion) during April-June quarter of 2014-15, up from Rs 9.05 lakh crore (Rs 9.05 trillion) in the preceding three months, according to the latest data available with Association of Mutual Funds in India.

However, AUM had touched a record Rs 10.11 lakh crore (Rs 10.11 trillion) at the end of May.

Industry experts said the quarterly rise in AUM is largely on account of gains in equity markets.

Besides, retail participation in equity schemes has increased significantly during the recent months.

During the quarter, BSE mid-cap grew by an impressive 32 per cent, while BSE 100 accelerated by 15 per cent and benchmark Sensex moved up by over 13 per cent.

HDFC Mutual Fund has retained its top position with an average AUM of Rs 1.3 lakh crore (Rs 1.3 trillion), a surge in asset base by over 15 per cent, while ICICI Pru MF saw its asset base grow by 10.52 per cent to Rs 1.18 lakh crore (Rs 1.18 trillion) during the period.

In the top league, HDFC MF and ICICI Pru are followed by Reliance MF (Rs 1.12 lakh crore or Rs 1.12 trillion) Birla Sunlife (Rs 98,556 crore or Rs 985.56 billion) and UTI MF (Rs 79,441 crore or Rs 794.41 billion) in terms of average AUM in the first quarter of 2014-15.

Interestingly, the asset base of top 10 AMC climbed by around Rs 68,000 crore (Rs 680 billion) or 10 per cent.

They together contributed 85 per cent of industry growth during the quarter.
Please click here for the Complete Coverage of Budget 2014 -15