UBS reiterated its Nifty target of 9,200 by December as it expects growth to gather steam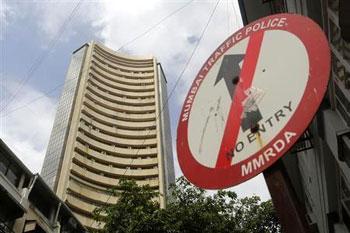 Most foreign investors are still overweight on domestic market despite the minimum alternate tax (MAT) issue and muted earnings growth, according to Swiss brokerage UBS.
The global financial services firm also reiterated its Nifty target of 9,200 by December as it expects growth to gather steam from the second half of the year.
"We have met nearly 100 foreign institutional investors (FIIs) from the US, the EU and Asia over the last month and most of them remain overweight on the country, despite the MAT row which they termed as a negative surprises from the Modi government," UBS analyst Gautam Chhaochharia said in a telecon.
On growth, he said it will be gradual as the capex cycle is yet to pick up and public spending will take time since the government is still on a fiscal consolidation mode.
When asked about the recent selloff by FIIs to the tune of around $5 billion in debt and equities following the MAT row, he said some FIIs chose to trim their overbought position but majority still remain overweight and that their net sale of $2.5 billion in cash segment is of no material impact on the market.
It can be noted that FIIs net sold $2.5 billion, (excluding Sun Pharm stake deal) in equities since mid-April.But this doesn't appear to be material given the overall 2015 net buying of $3.9 billion. FIIs net bought around $20 billion in 2013 and $16 billion in equities in 2014.
On the Nifty target, he said it has been trimmed to 9,200 by December. In April, it had reduced its Nifty target to this level from 9,600.
"We expect further cuts to earnings estimates top-down, and our top-down Nifty earnings growth forecasts for FY16 and FY17 are 10 per cent and 18 per cent, respectively against the street forecasts of 16 per cent and 20 per cent, respectively," he said.
On the MAT row, he said, "some investors displayed mild disappointment with the Narendra Modi government following the slow pace of reforms and particularly with the MAT notices," he said.
He said investors are more amenable to their long-held view that this recovery cycle is going to be muted and gradual, with a significant increase likely only next fiscal 17, while some investors do still harbour hopes of a sharp recovery in H2 of the current fiscal.
Expecting that NPA problem is bottoming out, he said banks are set to benefit from lower interest rates, and therefore UBS is quite heavy on private banks.