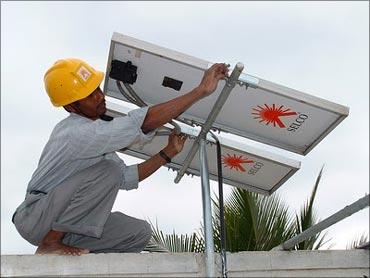 The clean energy sector in India will be one of the first sectors that would benefit during Prime Minister Narendra Modi's US trip. The sector awaits investments worth about $1 billion from US companies.
To finance sourcing of components from the US for Indian renewable power project developers, IREDA (Indian Renewable Energy Development Agency) and the US Exim Bank would sign an agreement. The financing would span over 18 years.
Officials close to the development said the agreement would be signed during Modi's visit to the US.

"This amount would be extended as tied loans on a project-to-project basis. There would be a fine balance for all kinds of renewable-based power projects. Though the major import from the US is solar panels, loans are likely to give much-needed push to solar power project development," said a senior official.
The rider, however, is that 30 per cent of the total equipment in the power project should be domestically sourced. Confirming the development, K S Popli, chairman and managing director, IREDA, said, "The loan amount of up to $1 billion is extended by the US Exim bank to IREDA for disbursal to grid-connected projects. Though there is no sovereign guarantee that comes with the loan but it would be extended to anyone who wants to set up a renewable energy-based power project with equipment sourcing from the US."
The country aims to add about 4,500 Mw of solar power capacity during the current financial year to the existing capacity of 2,600 Mw. The manufacturing capacity of solar panels in the country, however, is just 1,500 Mw.

To invite global players to the country, the ministry of new and renewable energy would also host the first-ever renewable energy global investment promotion meet in February next year. This goes well with the mega 'Make in India' plan of the government to boost manufacturing in the country.
While wind turbines in the country are mostly domestically sourced, 70 per cent of its solar capacity is based on imported content, mostly from China and the US. The government recently quashed the imposition of dumping duty on imported solar cells and modules from the US, China, Malaysia and Taiwan.
Domestic solar cells and module makers had contested in 2012 that cheap imports are killing the indigenous industry.
RENEWABLE IMPETUS
$1 billion agreement between US Exim Bank and IREDA
IREDA develops and extends financial assistance for renewable energy projects
Aid to buy equipment for renewable projects from the US
Projects need to have 30% locally sourced equipment
Major impetus to solar power which imports largely from the US