Jayapur, with a population of a little over 4,200, was like most other villages before Prime Minister Narendra Modi adopted it on November 7.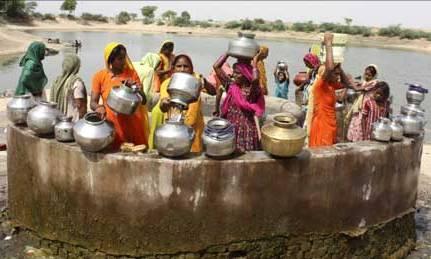 Narayan Patel is a busy man these days.
Apart from attending to scores of journalists coming from all over the place, he has to take care of the needs of visiting government officials, foreign delegates, representatives from civil society, company executives, scientists and researchers.
The de facto Pradhan of Jayapur village in Varanasi district, however, does not mind this sudden change in his life, as 'his village' has become part of history after the prime minister decided to adopt it as part of the Sansad Adarsh Gram Yojana.
Jayapur, with a population of a little over 4,200, was like most other villages before Prime Minister Narendra Modi adopted it on November 7.
Other than a primary school, the village is short of any amenity a decent habitation should have.
A primary health centre is a few kilometres away, the nearest railway station is at a distance of 10 km, secondary and tertiary education centres are miles away, electricity is conspicuous by its absence most of the time and there is nothing called a working public transport system.
"Ab sab kuch badalne wala hai (everything is going to change now)," exudes Patel, with nearly a dozen villagers nodding in agreement.
Anticipating achche din, villagers are about to make lifestyle changes.
Serving visitors with 'sugar-free sweets' is one of these.
"Do not worry. You can have them without any apprehension," a villager sitting near Narayan Patel told us, while serving a plateful of kaju katli.
There are signs of achche din for this village. Within a week of the PM's announcement about adopting Jayapur, Union Bank opened a solar-powered fully computerised branch.
In less than two weeks, the branch has sanctioned a Rs 35-lakh (Rs 3.5-million) crop loan, with Rs 24 lakh (Rs 2.4 million) already disbursed.
The branch has also arranged for villagers to enrol for Aadhaar cards.
All families of the village have opened bank accounts under the Pradhan Mantri Jan-Dhan Scheme.
State Bank of India is looking for a place to open its branch.
Life Insurance Corporation of India has done a preliminary survey and is set to launch a special scheme, with a promise of recruiting 15 agents from the village.
Bharat Sanchar Nigam Limited is set to install a mobile tower.
Scientists of Banaras Hindu University have provided top-quality wheat seeds to all the families.
KRIBHCO has distributed quality seeds of onion and peas, free of cost, to all villagers.
A visiting Japanese delegation has promised to set up a drainage system in the village.
A senior state government official told this reporter that an Indian-born American scientist has promised to set up educational infrastructure in the village.
And, the village will soon have a vocational training centre for women.
Help is coming from other quarters as well. Baba Ramdev's disciple, Om ran a three-day yoga camp last week and renowned doctors, including cancer and heart specialists, from Varanasi and Delhi have started holding day-long health camps, providing free health care.
Villagers also say they are expecting stars from Bhojpuri films to hold live concerts.
Villagers also expect 24/7 power supply soon with the help of a solar energy plant is in the planning stage.
"Modiji to sansar ke maalik hain. Unhe to sab pata hai. Unko batane ki zaroorat thodi hai (Modiji is the lord of the world. He knows everything. Who are we to tell him what to do" says Durgavati Devi, village pradhan.
Narayan Patel is her brother-in-law.
She shared dais with the prime minister when he had visited the village on November 7.
"The prime minister asked for my wish on the dais.
What could I tell him" she adds.
The promise of better physical infrastructure is only one of the many changes , recount villagers.
What pleases them the most is the attitudinal change in the way government officials approach the village.
"Whenever our pradhan calls up a local police officer or a district magistrate or any senior officer, she is heard seriously and her concerns addressed without any delay," says a villager, who took a lift in our taxi and talked at length about how good things are waiting to happen in the village.
"A senior district administration official visited our village recently and inspected our ration shop.
"He found some deficiency and issued instant instruction to get it rectified."
Villagers take pride in the fact that Jayapur is one of the few all-Hindu village in the area.
According to local legends, when Mughal emperor Aurangzeb was on a temple hunting mission, his army came across an old Hanuman temple in the village.
It was unique in the sense that the main deity was black in colour.
Villagers recount how their forefathers defeated the powerful Mughal army and kept the temple safe from invasion.
Hence, the name Jayapur. The narrative has perhaps sustained its all-Hindu character.
One Varanasi-based journalist, who works for a national news channel, told this reporter Jayapur "has traditionally been a Rashtriya Swayamsevak Sangh stronghold and one of the RSS prant pracharaks belongs to this village.
"RSS holds regular sakhas in the village.
"The RSS may have played a role in adoption of this village by the PM." He requested not to be named.
For the time being, Jayapur is basking in its new-found glory.
For many of the visitors to Varanasi, it is becoming a must-visit destination in their itinerary.
"When I visited the village, I saw a gentleman from Patna who wanted to plant five trees in 'Modi's village'.
Then there, were people from Uttarakhand and Delhi coming to see this village. I know many taxi operators in Varanasi, who have started showing road maps to their drivers on how to reach Jayapur," said the journalist.
Image: Women gather at a village well to draw drinking water. Photograph: Amit Dave/Reuters

The image is used for representational purpose only