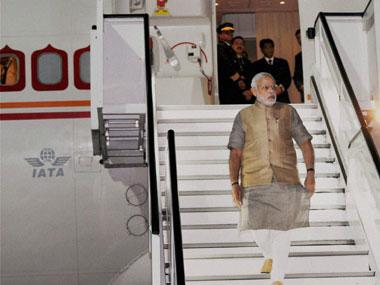 Prime Minister Narendra Modi will hardshell India as an attractive investment destination while deliberating with movers and shakers of global business at the Hannover Messe during his three-day trip to Germany beginning Sunday, besides holding talks with its top leadership.
In his maiden visit to the European nation as Prime Minister, Modi will have a packed schedule and wooing investors and projecting his ambitious "Make in India" initiative will be a major focus area.
Modi will inaugurate the Hannover Messe, considered the largest congregation of business tycoons, along with German Chancellor Angela Merkel.
India is the partner country of the fair this year where over 350 Indian enterprises are participating.
"In January, the world came to vibrant India in Gujarat and now exactly three months later, vibrant India is coming to the world in Germany to Hannover Messe," German Ambassador Michael Steiner told reporters briefing on Modi's trip.
Expecting that Modi's visit will take the relationship to a "new level", Steiner said Chancellor Merkel will come to India in October for the inter-govermental meeting where all major issues will be deliberated at length.
The Prime Minister will have a round-table with top German CEOs on Sunday and again will interact with around 800 business leaders the next day at the Indo-German business summit.
He may have one-on-one meetings with some of the CEOs, according to Steiner.
The envoy said Modi will leave for Berlin on Monday evening and will have a detailed meeting with Merkel on Tuesday on a range of issues including clean energy, infrastructure development, smart cities project among others.
A letter of intent on a solar rooftop project and another on cooperation between some of the German and Indian cities may be signed during Modi's visit.
The Prime Minister's delegation will include five Union Ministers including Nirmala Sitharaman, Piyush Goyal, Ravi Shankar Prasad, Rajiv Pratap Rudy and M Venkaiah Naidu.
Chief Ministers of Meghalaya, Uttar Pradesh and Maharashtra are also likely to travel with Modi besides around 110 business leaders, the envoy said.
Asked about investment climate in India, the envoy said it has improved significantly as "there was optimism now and interest of corporates in India has grown."
"There is a change and it takes time. India is a big ocean...you cannot change things overnight. Things have started to move," he said, adding there was a need to keep on moving. He said UPA could not do so many things as it was a "large coalition".
Calling India as an important partner of Germany, he said both countries are working together in various multilateral forums including G4, G20 and the UN.
Steiner said Germany has expertise in river cleaning and would like to participate in riding the Indian rivers including Ganga off pollutants. About India becoming a partner country for Hannover fair, Steiner said, "I think this time India will exceed the expectation and stun the world. Germany and India are perfect match."
The fair was first held in 1947 and India was the partner country in 2006.
Next year, the US will be the partner country. Steiner said $1.3 billion worth of business deals were finalised with India at the 2006 fair.
He said the Make in India logo, a silhouette of a lion on the prowl made of cogs, was on display at almost all airports of Germany.
Giving details of Modi's engagement, the envoy said he will interact with a group of Indian students in Hannover on Sunday and will unveil a bust of Mahatma Gandhi.
Merkel will host a dinner for him on Sunday evening. On Monday, Modi and Merkel will visit the Indian pavillion at the Hannover fair.
In Berlin, Modi will visit office of Siemens AG, the engineering conglomerate which has significant operations in India.
He will also visit the Berlin central railway station, touted as the most spectacular architectural project of the city. Modi is likely to meet a group of NRIs in Berlin.
He will be given a ceremonial welcome in Berlin on Tuesday and will meet a number of senior leaders including the Foreign Minister besides having a working lunch with Merkel on that day.
The envoy said development cooperation between the two countries have "skyrocketed" in the last few years.
Last year, 1.2 billion euros were provided to India by Germany in development projects. Steiner said Modi will also visit Airbus headquarter Toulouse in France.
He said the company was interested in expanding operation in India. The European consortium has manufacturing facilities in France, Germany, Spain and the UK.
Photograph: PTI