India has surpassed China as world's largest gold consuming nation with 562 tonnes of buying so far this year.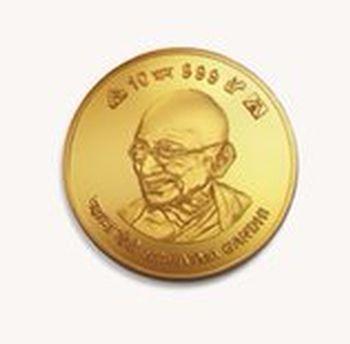 Prime Minister Narendra Modi on Thursday launched three ambitious schemes to reduce the physical demand for gold and fish out 20,000 tonnes of the precious metal worth $800 billion lying idle with households.
The Gold Monetisation Scheme (GMS), 2015 will offer option to resident Indians to deposit their precious metal and earn an interest of up to 2.5 per cent; while under the Sovereign Gold Bonds Scheme, investors can earn an interest rate of 2.75 per cent per annum by buying paper bonds.
Modi also unveiled the first ever Indian gold coin & bullion, bearing national emblem Ashok Chakra on one side and Mahatma Gandhi's image engraved on the other side. Initially the coins will be available in denominations of 5 and 10 grams.
A 20 gram bullion will also be available through 125 MMTC outlets. Speaking on the occasion, Modi said India has surpassed China as the world's largest gold consumer, buying 562 tonnes of yellow metal so far this year, against china's 548 tonnes.
"People should take advantage of the golden opportunity to help India march to a golden period," he said.
Observing that there is no reason for the country, which has 20,000 tonnes of gold lying idle with households and institutions, to remain poor, he said, with some efforts and right policies India can get rid of this tag of (poor nation).
Recalling India's tradition of savings and culture of empowering women with gold, he said in a lighter vein, even the RBI Governor Raghuram Rajan will have to recognise the difference between "arthashastra (economics) and grahshastra (home economics)."
Various schemes launched today will increase the availability of gold and bring down its import.
India currently imports around 1,000 tonnes of gold every year, leading to outflow of forex reserves.
Modi described the schemes as an example of "sone pe suhaaga" (icing on the cake). The Prime Minister spoke of the great bond of trust that the family goldsmith enjoys in India.
He said that once they gain familiarity with these plans, they could become the biggest agents of the schemes. He described the launch of the Indian Gold Coin, bearing the Ashok Chakra, as a matter of pride for the nation and said that people would no longer have to depend on foreign-minted gold bullion or coins.
The Prime Minister also launched a website on these schemes and distributed Certificates of Investment to six initial investors.
The decision to issue coins and gold monetisation and bond schemes follows an announcement made by Finance Minister Arun Jaitley in his 2015-16 Budget speech.
On the occasion, Jaitley said that gold lying idle with individual can be a personal savings but it does not help in development of country.
He expressed hope that citizen would take advantage of these three schemes.
Jaitley further said the import of gold will come down with the launch of sovereign gold bond scheme. "As per the RBI, gold has contributed nearly 30 per cent of our trade deficit during 2009-10 and 2011-12.
Around the third of the demand for gold in the country is for the investment purposes," Commerce and Industry Minister Nirmala Sitharaman said.
The Gold Monetisation Scheme will replace the existing Gold Deposit Scheme, 1999. However, the deposits outstanding under the Gold Deposit Scheme will be allowed to run till maturity unless the depositors prematurely withdraw them.
The minimum deposit for the raw gold (bars, coins, jewellery excluding stones and other metals) should be equivalent to 30 grams of 995 fineness, it said, adding there is no maximum limit for deposit.
With regard to gold bonds, the RBI in consultation with the Centre has decided to issue such instruments carrying an annual interest rate of 2.75 per cent.
Applications for the bonds will be accepted from November 5-20 and bonds will be issued on November 26. These bonds will be sold through banks and designated post offices.
The borrowing through issuance of such bonds will form part of the government's market borrowing programme. Aimed at providing an alternative to buying physical gold, the bonds scheme will offer investors a choice to buy bonds worth 2 grams of gold, up to a maximum of 500 grams.
This is the first tranche of the gold bond scheme and subsequent tranches would be notified later.
The tenor of the bond will be for a period of eight years with exit option from fifth year to be exercised on the interest payment dates.
"These schemes will be transformative for the Indian gold industry. However, the expectations from the schemes in the short term must be tempered as it will take time to build the infrastructure and products and for customer acceptance to grow," said World Gold Council MD (India) Somasundaram PR.
The Sovereign Gold Bond scheme offers host of benefits including additional interest of 2.75 per cent per annum on the initial purchase price, said Nitin Chugh, Head, Digital Banking, HDFC Bank.
Yes Bank also launched the Sovereign Gold Bonds Scheme at major branches across the country and is in the process of fine-tuning its launch of the Gold Monetisation Scheme.