The meeting will focus on how to make the crisis an opportunity for India.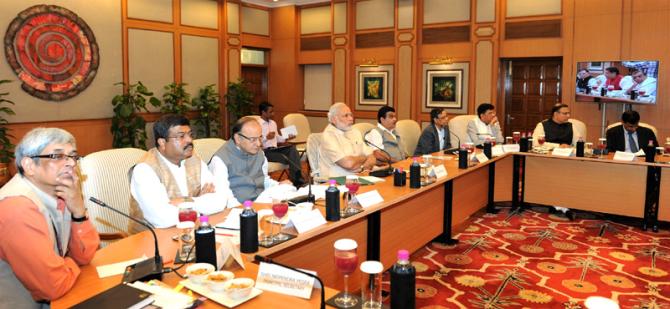 Image: Prime Minister Narendra Modi chairing a high-level meeting on the global economic scenario, in New Delhi on September 8, 2015. Photograph, courtesy: PIB
Captains of India Inc, including Tata group chief Cyrus Mistry, Reliance Industries Chairman Mukesh Ambani, Reliance Group head Anil Ambani, State Bank of India Chairman Arundhati Bhattacharya, ICICI Bank Managing Director and chief executive Chanda Kochhar, Aditya Birla Group Chairman Kumar Mangalam Birla and Adani Group chief Gautam Adani, are expected to gather at Prime Minister Narendra Modi's 7 Race Course Road residence in New Delhi on Tuesday morning for a rare interaction.
Chiefs of industry chambers — the Confederation of Indian Industry, the Federation of Indian Chambers of Commerce and Industry, and the Associated Chambers of Commerce and Industry — will also be present at the meeting, as will a few economists.

They are part of a select group invited to discuss the "recent global events and opportunity for India".
In all, 40 delegates, including Cabinet ministers, bureaucrats, leading bankers and top central bank officials will be present, according to a government statement.
While Modi and his senior finance ministry officials have maintained that the global economic crisis, especially the Chinese stock market crash and the devaluation of the yuan, will create opportunities for India, many think otherwise. "India can take advantage of the global development in a limited way," says Madan Sabnavis, chief economist at CARE Ratings.
Devendra Pant, chief economist at India Ratings, says, "How much of it is an opportunity for India will depend on whether Indian industry can ramp up production to China's scale."
Aditi Nayar, senior economist at ICRA, however, said, "The continued fall in global commodity prices particularly benefits India, which has a high intensity of commodity imports. A lower import bill would cushion the impact of lacklustre exports related to the weak outlook for global demand, on the Indian current account deficit."
It isn't often that the PM meets industry leaders. This time, the move was to "spur confidence", experts said.
In a departure, Modi and his team have laid out a well-defined programme for Tuesday morning, for about two and a half hours. Each speaker has been allotted exactly three minutes to make a case as to how India can take advantage of the crisis.
"Many of the industrialists invited were trying to figure who else would be there at 7 RCR," said a source.
The focus of the interaction will be how the global economic downturn can be an opportunity for India. In the past two weeks, the PM and his senior Cabinet colleagues have engaged in dialogue with bankers and global experts on managing the economy, while dismissing any negative implication of these events on India.
According to the schedule for the meeting, Finance Minister Arun Jaitley will open the session at 10.30 am. Chief Economic Advisor Arvind Subramanian is expected to make a presentation for about five minutes.

The 27 invitees will get three minutes each for their presentations. This will be followed by a 10-minute discussion, after which the PM will address those present and Jaitley will sum up.
The last time Modi had met industry representatives was on June 30. That meeting was aimed at hearing industry's grievances on issues such as high capital costs, ease of doing business and taxation.

It was the first time he met industry leaders together, since taking over as PM in May 2014. He, had, however held separate meetings with a few companies and business chamber earlier.
Currently, the sentiment is negative, says Sabnavis.

"So, the idea behind the interaction is to tell industry things are alright and build its confidence."

He, however, added as India was a domestic-oriented economy, any significant opportunity from the global economic crisis was unlikely. "The current government has consistently tried to keep the positive sentiment alive, and this is another such move."