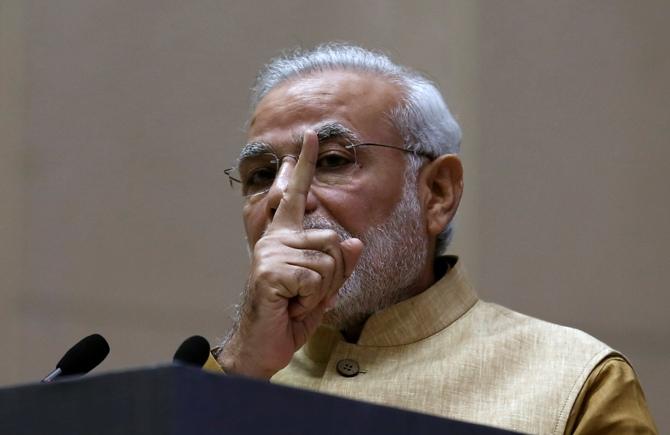 Prime Minister Narendra Modi gestures as he speaks during the launch of 'Make in India' campaign in New Delhi September 25, 2014. Photograph: Adnan Abidi/Reuters
Asserting that there is a 'high tide of hope for change' in India, Prime Minister Narendra Modi has said that the country will be open and friendly for business and ideas to make it a new global manufacturing hub.
"We will create world-class infrastructure that India badly needs to accelerate growth and meet people's basic needs.
"We will make our cities and towns habitable, sustainable and smart; and we will make our villages the new engines of economic transformation," Modi said.
"'Make in India' is our commitment -- and an invitation to all -- to turn India into a new global manufacturing hub.
"We will do what it takes to make it a reality,"' he wrote in an op-ed article in The Wall Street Journal.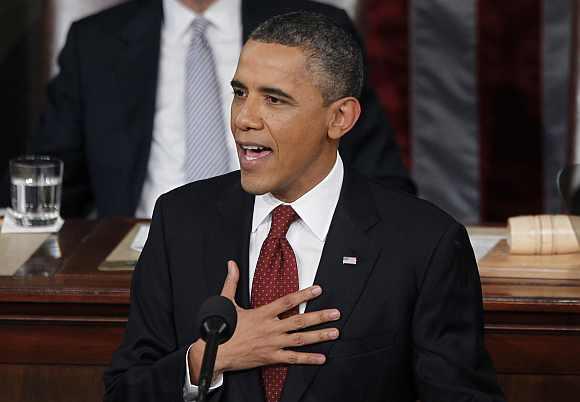 US President Barack Obama. Photograph: Reuters
Modi said India will pursue its dreams in partnership with its international friends.
"History tells us that India's natural instinct is to be open to the world.
"India will be open and friendly -- for business, ideas, research, innovations and travel," Modi said.
"In the coming months, you will feel the difference even before you begin your travel to India."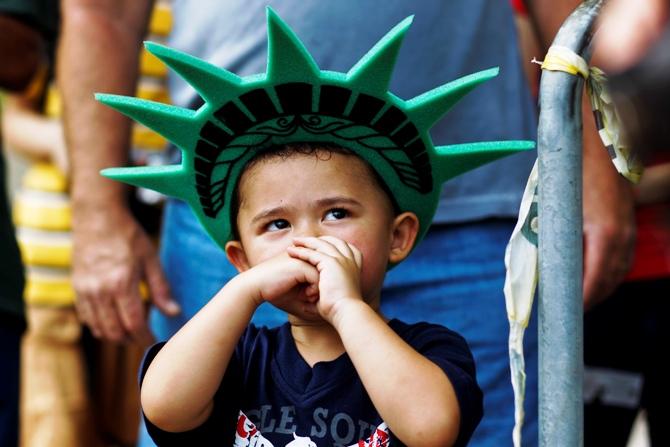 A child attends a ceremony to reopen the Statue of Liberty and Liberty Island to the public in New York July 4, 2013. Photograph: Eduardo Munoz/Reuters
The Prime Minister, who arrives in New York on Friday on his maiden five-day US visit, said: "There is a high tide of hope for change in India."
Modi said that 1.25 billion people spoke unequivocally this May for political stability, good governance and rapid development, adding that India has a government with a majority in the Lok Sabha, for the first time in 30 years.
"A young nation with 800 million people under age 35, India is brimming with optimism and confidence.
"The young people's energy, enthusiasm and enterprise are India's greatest strength.
"Unleashing those attributes is my government's biggest mission," he said.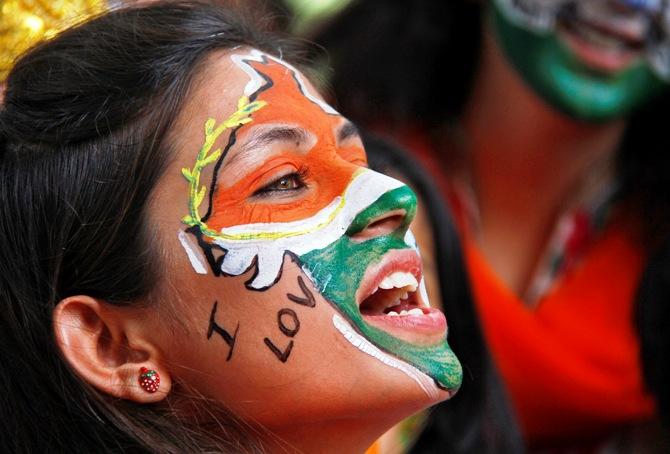 A girl wears colours of the tricolour. Photograph: Ajay Verma/Reuters /Reuters
"We will pursue this mission by eliminating unnecessary laws and regulations, making bureaucratic processes easier and shorter, and ensuring that our government is more transparent, responsive and accountable.
"It has been said that doing the thing right is as important as doing the right thing," he said.
Referring to his election campaign, the Prime Minister said he ran it on the promise of inclusive development.
"To me, that means many things: skills education, and opportunity; safety, dignity and rights for those in every section of our society, especially women; a bank account for every Indian; affordable health care within everyone's reach; sanitation for all by 2019; a roof over every head by 2022; electricity for every household; and connectivity to every village," he said.
"In addressing these daunting challenges, I draw confidence from countless extraordinary stories of ordinary Indians that I have seen through decades of travel across India," he said.
A man is splashed with colours during Holi. Photograph: Babu/Reuters
Modi said he strongly believes in the possibilities of technology and innovation to transform governance, empower people, provide affordable solutions for societal challenges, and reach people in ways that were unimaginable not so long ago.
He said the number of cellphones in India has gone up from about 40 million to more than 900 million in a decade; our country is already the second-largest market for smart phones, with sales growing even faster.
"When I think of the growth in computing power and storage capacity and its miniaturisation that the world has witnessed over the past two decades, I am confident that this can be replicated in renewable energy.
"With solar and wind power, thousands of Indian villages will be able to get access quickly to reliable, affordable and clean energy, without waiting for large, faraway conventional power plants to be built," Modi said.
"For this reason, India's journey to prosperity can be a more sustainable and environmentally sensitive one than the path followed by countries that came of age in earlier eras.
"This is a journey of our choice, rooted in our tradition that worships nature's bounties," the Prime Minister wrote.