Giving a further boost to his Digital India agenda, Prime Minister Narendra Modi has emphasised on the need to use information technology to set up smart cities.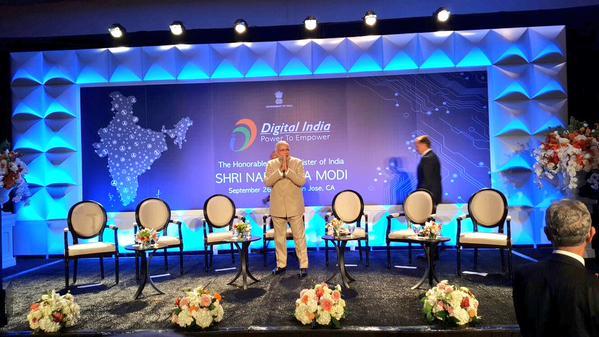 We recognize that a Digital India cannot be built without bridging the digital divide," Modi said.
"In this digital age, we have an opportunity to transform lives of people in ways that was hard to imagine just a couple of decades ago. I see technology as a means to empower and as a tool that bridges the distance between hope and opportunity," Modi said.

Calling for technology is accessible, affordable, and adds value, Modi said, "It's time for m-governance, that's the way to go in a country with 1 billion cell phones.

Internet access means content should be in local languages, Modi said.
"We will connect all schools and colleges with broadband,' PM Modi said while stressing that 'Digital India is enterprise for India's transformation, on a scale which's perhaps unmatched in history".
He also said paperless transactions are the way to go forward. "We want to bridge the gap between people and governance with technology," Modi said.
Status now is not whether you are awake or asleep, it is whether you are online or offline, Modi said.
By using internet, we have been able to identify applications that would make governance faster & better. The pace at which people are taking to digital technology defies our stereotypes, Modi said.
The most fundamental debate for our youth is the choice between Android, iOS or Windows, Modi said. In India, 500 railway stations will get free Wi-Fi with the help of Google, he added.
From large corporates to young professionals in this great centre of innovation, each can be part of the Digital India initiative, Modi said.