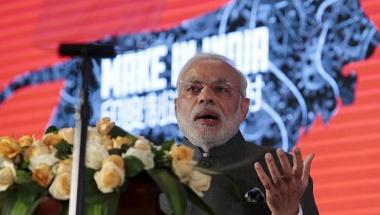 Reaching out to Chinese investors, Prime Minister Narendra Modi on Saturday asked them to take advantage of the "winds of change" in India with a much more transparent, responsive and stable regulatory regime even as leading firms from the two sides signed deals worth $22 billion. "This is a historic opportunity for Chinese companies," Modi said addressing the India-China Business Forum here in China's financial hub after interacting with 22 CEOs of top Chinese companies, including Alibaba Group chairman Jack Ma.
"We have committed ourselves for creating and improving the business environment. I can assure you that once you decide to be in India, we are confident to make you more and more comfortable," the Prime Minister said. "India is ready for business.
You must be sensing the winds of change in India. I only advise you to come and feel the same," he told business leaders from both countries.
The Prime Minister said as two major economies in Asia, "harmonious partnership" between India and China was essential for economic development and "political stability" of the continent.
"You are the 'factory of the world'. Whereas, we are the 'Back office of the world'. You give thrust on production of hardware, while India focusses on software and services," he said.
Earlier, he met CEOs of 22 top Chinese companies including Alibaba, China Light and Power, Xiaomi, Huawei and Trina Solar on the last leg of his three-day visit to China.
The Prime Minister assured Chinese businessmen that India's economic environment has changed. "Our regulatory regime is much more transparent, responsive and stable. We are taking a long-term and futuristic view on the issues," he said.
He said a lot of efforts have been made and were still underway to improve the 'ease of doing business'.
Noting that both countries have potentials of growth and problems of poverty which they can tackle together, he said, "I am personally committed to take the cooperative process forward.
That is why even as Chief Minister of Gujarat, I visited China. As Prime Minister too I am convinced and committed for exchange and co-operation for socio-economic development of the two countries." Modi said he has a lot of hope from the relationship which he and President Xi Jinping are trying to build. "We are very keen to develop the sectors where China is strong. We need your involvement.
The scope and potential, the breadth and length of infrastructure and related developments is very huge in India," he said.
Modi recalled that in March he had a discussion with Jack Ma of Alibaba in Delhi about possible co-operation for strengthening the micro-credit sector of India.
The Prime Minister said like China, India also wants to promote manufacturing in a big way particularly to create jobs for youth who form 65 per cent of the population. "Hence, we want to Make things in India. For this purpose, we have launched a campaign called 'Make in India'... We have to learn from you about the development of labour- intensive industries, creating conditions for sustainable foreign direct investment, skill development, infrastructure creation and export-led development model," he said.
"Our initial measures have helped in building up an enhanced investor confidence. The sentiments for private investment and inflow of foreign investment are positive. FDI inflows have gone up by 39 per cent during April-2014 and February-2015 against the same period in previous year," he said, adding India-Chinese partnership should and will flourish. He expressed confidence that coming together of India and China will result in very good outcome.
"We have complemented each other in the past. We can complement in the present and future too. As two major economies in Asia, the harmonious partnership between India and China is essential for economic development and political stability of the continent," he added.