Modi will have limited choice other than stressing upon a request for more time to decide on tariff rates, especially with elections in 2019.
Subhayan Chakraborty reports.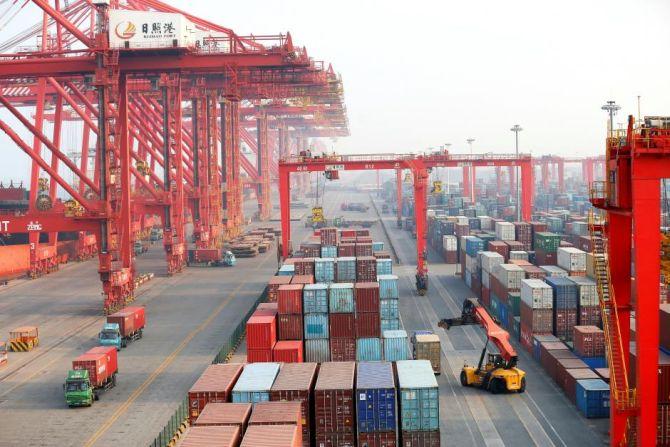 Prime Minister Narendra Damodardas Modi may have a tough task on his hand when he reaches Singapore to meet leaders from nations negotiating the proposed Regional Comprehensive Economic Partnership pact. The PM is likely to ask for more time to conclude the talks.
Beginning November 14, Modi will be on a two-day visit to Singapore for the 13th East Asia Summit, where he is set to hold separate talks with leaders from across Asia-Pacific. His visit will coincide with the annual summit of the 10-member Association of the Southeast Asian Nations bloc, also taking place in Singapore from November 11 to 15.
There, Modi will have to allay the fears of India's ASEAN allies, who have repeatedly targeted New Delhi for delaying a consensus on the RCEP.
The ambitious pact is proposed between 10 ASEAN economies and six others -- New Zealand, Australia, China, India, Japan and South Korea -- with which the grouping currently has free trade agreements. So far, 24 rounds of talks have concluded, apart from six minister-level meets.
India has crucial differences on tariff reduction, market access and services trade norms, such as those on the free movement of trained professionals with other nations.
As a result, Modi will have limited choice other than stressing upon India's latest position - that of a request for more time to decide on tariff rates, especially with elections in 2019, a senior trade negotiator said. However, Modi is expected to commit to the RCEP despite the current deadlock, the negotiator added.
Due to the strain in talks, Commerce and Industry Minister Suresh Prabhu will be in Singapore to hold last minute talks with his RCEP counterparts on November 12-13.
At the last trade ministers' meet, a joint proposal had been adopted to decide on the broad contours of the mega-regional deal by end of 2018.
"This 'package of year-end deliverables' has been pushed by the ASEAN bloc with support from China, which is increasingly wary of the trade potential with the US under the volatile Trump regime. But it mentions only four major chapters of the goods trade, with the vast majority still seeing no progress. It was also silent on greater market access for the services trade -- an area of prime interest to India," said a senior trade expert present during the meet.
The upcoming talks may suffer the same fate as the last -- when discussions had broken down with India being attacked for delaying a consensus on the RCEP, he added.
The proposed pact is to have 21 chapters across goods, services and investment. The short-term goal is to have five or six more chapters completed before the year end.
The last of these, held in Auckland last month, saw developed economies oppose India's plans of dealing with China separately.
New Delhi had offered to reduce tariffs for Beijing over a 20-year period while suggesting shorter wait periods for other economies such as Australia, New Zealand and South Korea.
"The largest component of our trade deficit stems from that with China at more than $63 billion; so we obviously need more time to adjust to lower import duties in a post-RCEP world," said a senior commerce department official.
On tariffs, India has also resisted calls by most nations arguing that New Delhi should slash existing tariffs on up to 90 per cent of all goods, as well as demands by richer nations to open up the Indian market to specific products such as dairy and engineering goods.
Earlier this year, the future of the mega trade bloc -- under planning since 2012 -- had become uncertain as several ministries were opposed to the talks.
With industry bodies and ministries openly questioning the rationale behind India entering the RCEP pact, the PMO had itself assessed the pact and its fallout despite Modi promising to seal the deal by 2017.