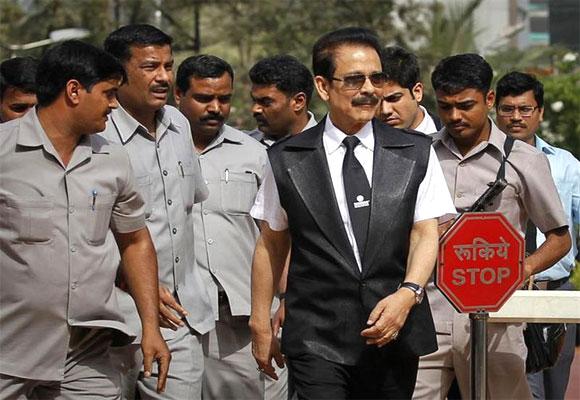 US-based Mirach Capital on Tuesday said it is initiating a $400 million defamation lawsuit against the Sahara group, while alleging that the failed financing deal with the Indian conglomerate has caused "irreparable harm" and "shaken investor confidence".
Accusing Mirach Capital of cheating and forgery in the failed $2.05 billion loan arrangement, Sahara had also said last month that it has initiated legal action against the US-based firm.
The crisis-hit group had alleged that Mirach and its CEO Saransh Sharma's criminal conduct and lack of financial capabilities to honour such huge commitments led to the breaking down of the deal, leading to the loss of precious time, resources and position of Sahara.
In a press release issued on Tuesday, Mirach has now accused Sahara of hurling "unfounded allegations" against it despite "factual evidence" that completely dispels Sahara's "trumped up" allegations of forgery.
Stating that the Lucknow-based company and its representatives continue to attempt to discredit Mirach and its CEO Sharma in the court of public opinion, Mirach said it is "announcing a defamation lawsuit to the amount of $400 million against the Sahara Group, as well as a news organisation believed to be a collaborator."
Mirach further accused Sahara's representatives of breaching an exclusivity contract with it following public comments by its Indian-origin CEO Sharma regarding the group's acquisition strategy of the Sahara assets.
"Unable to make payments on the interest of the proposed loan package, and being an unwilling seller of the properties, Sahara launched a series of false allegations to discredit Mirach and kill the loan transaction.
"It further attempted to discredit CEO Saransh Sharma, launching unproven allegations of forgery that have claimed to be validated by Sahara's 'internal investigations'," the firm said adding that when it fought back against those allegations, Sahara "trumped up" stories of a US probe.
Mirach asserted that no US federal authorities have contacted it and its directors to date for any investigation. "In light of these actions, which have caused irreparable harm in the form of loss of income, shaken investor confidence, personal injury and more, Mirach Capital Group is prepared to litigate until justice is served," the firm said.
"The exorbitant damages must be paid and Mirach intends to place liens against the properties included in the deal. Additionally, Mirach will apply for any injunctions necessary on any proposed transaction that Sahara may try to engage in, until the dispute with Mirach isn't resolved," the firm said.
Mirach stressed that it "continues to be proven" that its transaction with Sahara was to date the most likely to provide relief for the distressed assets.
"It is unfortunate that the Sahara Group's unrestrained behaviour continues while so many lives hang in the balance," it said.
The Supreme Court on March 13 granted a third and last opportunity to Sahara Group and its Chief Subrata Roy to secure a transaction for its assets in order to raise the necessary bail for him.
Mirach accused Sahara's representatives of making unfounded allegations against it while the group scrambled for more time for its jailed CEO and attempted to make its case as to why previous attempts did not materialise.
© Copyright 2023 PTI. All rights reserved. Republication or redistribution of PTI content, including by framing or similar means, is expressly prohibited without the prior written consent.