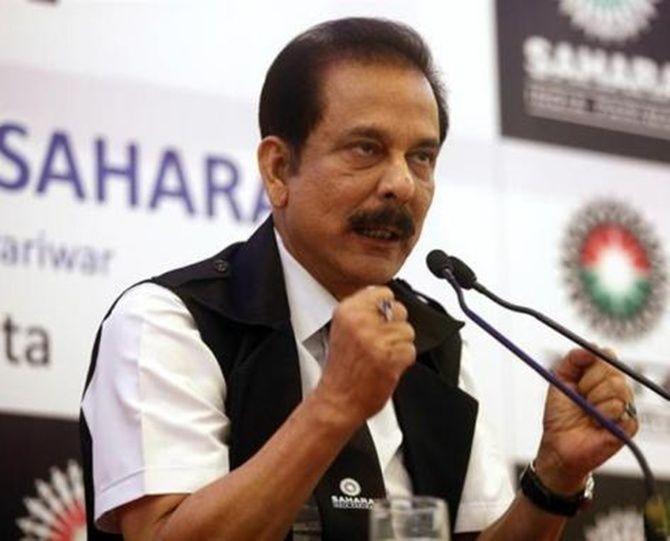 Accusing Mirach Capital of "cheating and forgery" in the failed $2.05 billion loan arrangement, Sahara on Thursday said it has initiated legal action against the US-based firm and it is now working on a new deal to raise funds to secure bail for its chief Subrata Roy.
The crisis-hit group alleged that Mirach and its CEO Saransh Sharma's "criminal conduct and lack of financial capabilities to honour such huge commitments led to the breaking down of its deal with Sahara, leading to the loss of precious time, resources and position of Sahara".
"... Sahara is now taking legal actions both of civil and criminal nature against such gross criminal conduct of MCG (Mirach Capital Group) and their officers, both in India as well as in the US," a Sahara spokesperson said.
He further said that an FIR has already been filed in this regard, while adding that the group is now "working on another deal and Sahara will comply the order (of the Supreme Court) very soon."
There was no immediate reply to queries mailed to Mirach, which had earlier accused Sahara of going back on the deal and also warned the Indian group of legal action.
Mirach had on Wednesday formally called off its $2.05 billion loan financing for Saharas and said it has returned the entire due diligence fees of $2.625 million to them.
It also accused Sahara of being an "unwilling seller" for the three overseas properties -- The Plaza and Dream Downtown in New York and the Grosvenor House in London.
With its financing arrangement, which involved transfer of loans taken by Sahara from Bank of China for three these hotels to a clutch of investors, Mirach had emerged as a white-knight in Sahara's efforts to secure release of its jailed chief Subrata Roy till its syndicate loan offer got embroiled in an alleged "forged letter" controversy.
Sahara and Mirach were asked to finalise their deal by February 20 to help arrange funds for securing release of Roy and his two colleagues, who have been lodged in Tihar Jail for almost a year now.
While calling off the loan deal, Mirach on Wednesday said it was still willing to arrange a full buyout of Sahara's three overseas hotels for a similar amount of $2.05 billion.
The loan deal fell apart after Bank of America disclosed that it was not involved in the deal as was being claimed.
Sahara said that its own due diligence found the letter to be "forged", which was purportedly from Bank of America and claimed to provide guarantees worth $1.05 billion for the Mirach-Sahara deal.
The Supreme Court, which had asked Sahara to deposit over Rs 24,000 crore (Rs 240 billion) to Sebi in August 2012 for further repayment to investors, was informed that the Mirach deal has failed. Only a part of these funds has been deposited by Sahara with Sebi, although the group claims to have already repaid over 93 per cent of investors directly.
In a detailed statement on its side of story in the loan arrangement with Mirach and the eventual collapse of the deal, Sahara said the MoUs and basic agreements were signed between the two parties after several rounds of discussions, negotiations and meetings, "in person, through e-mail communications and on telephone".
The deal involved mainly three components -- taking over of Bank of China loan for a sum of about $900 million, providing a 'junior loan' of $650 million to Sahara against the mortgage of three foreign hotels and an investment of $400 million in an Indian hospitality arm of Sahara.
Sahara said it had asked Mirach to provide proof of funds to show its capability to carry out its commitments, to which Mirach agreed to provide a letter from Bank of America for $1.05 billion.
Mirach sought $2.625 million as compensation for blocking the funds, which was given by Sahara, the group said, while adding that it subsequently got a letter purportedly issued by Bank of America that Mirach had $1.05 billion in its account and the same has been blocked for Sahara deal.
The Supreme Court was informed about this proposed deal on January 9. Later on January 31, a Bank of America branch manager informed Sahara that the said letter, purportedly issued by him, was neither issued by him nor signed by him, the group said.
"As such, the said letter was a forged letter," it added. Subsequently, Sahara began its own due diligence and sent a person to the US to check its veracity, while submitting an affidavit in the Supreme Court about the same.
Sahara said it even "confronted Saransh Sharma on the same, who, in turn, was not been able to confirm the veracity of the said BofA letter". The group also alleged that Sharma did not refund to it the "retention/blocking fee of $2.625 million".
It also termed as "unfounded" claims of Mirach that BofA refused to be a party to this transaction "citing integrity issues with Sahara".