'The velocity of the market correction in September was so fierce that 9 stocks declined for every one that advanced,' reveals Samie Modak.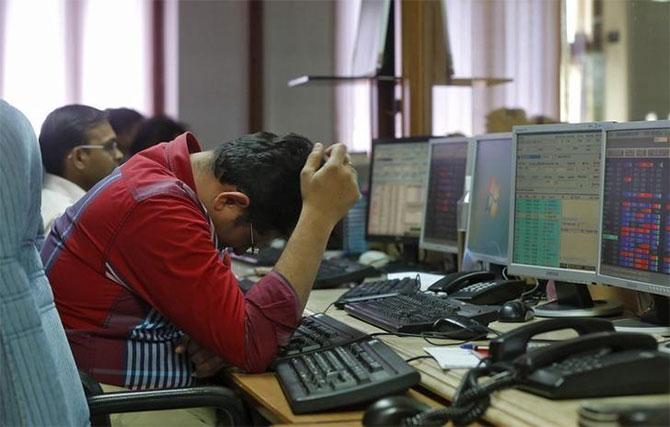 The BSE Smallcap and Midcap indices plunged 16 per cent and 13 per cent, respectively, in September -- the biggest monthly fall since October 2008.
The broader markets have marked with mayhem the 10th anniversary of the collapse of Lehman Brothers in the very month it happened.
Unlike in 2008, when the Sensex too had crashed 24 per cent, the headline indices fell 6.3 per cent this month, their worst monthly performance in 31 months.
The genesis of the fall has been sell-offs in the emerging market, fall in the rupee, rising bond yields, and waning risk investor appetite.
Also, lofty valuations -- the Sensex and Nifty touched all-time highs in end-August — coupled with deteriorating macroeconomic fundamentals amid rising crude prices, provided little comfort even to perennial stock market bulls.
The velocity of the market correction in September was so fierce that nine stocks declined for every one that advanced.
The BSE Smallcap index saw 877 of its 952 components end with losses during the month, while 102 of 110 stocks in the BSE Midcap index saw negative returns.
The breadth wasn't any better for the Sensex, where 26 components ended with losses and only five, most of them technology stocks, managed to deliver positive returns.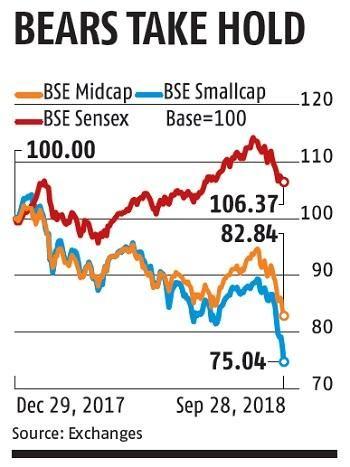 After the latest sell-off, the smallcap index is in deep bear market territory, having corrected 28 per cent from their peak in January.
The BSE Midcap index is on the verge of slipping to bear territory, having come off 19 per cent from its peak.
The Sensex, on the other hand, is down 7 per cent from the peak touched on August 28.
This year's correction in small and mid-caps comes after four years of outperformance to the benchmark indices.
Between January 2014 and January 2018, both the BSE Smallcap and Midcap indices saw nearly three-fold rise, even as the Sensex gained around 80 per cent.
In January, the price-to-earning (P/E) multiples of small and mid-cap indices had climbed to a record high.
The turn in sentiment has led to significant erosion in the value of several companies.
To illustrate, 64 stocks in the BSE Smallcap index have lost nearly a third of their value in September.
Similarly, 20 stocks in the BSE Midcap index lost a fifth of their value this month.
Most of these stocks belong to the financial sector.
Among the Sensex components, shares of YES Bank plunged 47 per cent, Maruti Suzuki have dropped 19 per cent, and Tata Motors has declined 18 per cent in September.