Over a dozen public sector banks will get Rs 46,101 crore as part of capital infusion in the current fiscal ending this month to allot shares to the government in lieu of equity capital.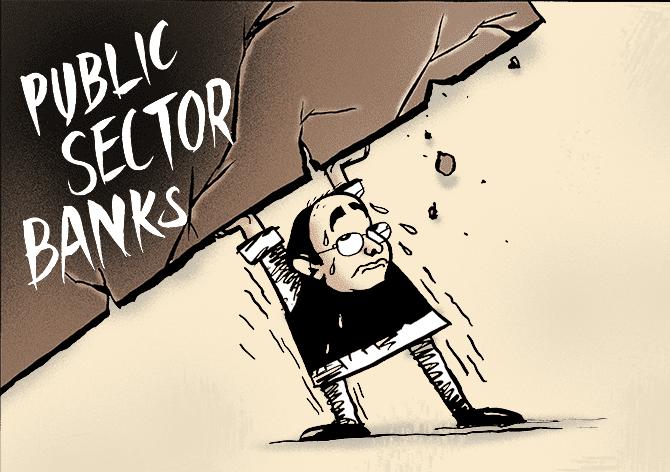 These banks, including SBI, PNB, Bank of Baroda, Central Bank, Union Bank and OBC, have called shareholders' meetings this month to pass the resolution to allot preferential shares to government so as to receive the capital.
The country's largest lender State Bank of India will get the largest sum of Rs 8,800 crore as government's capital infusion.
A general meeting of SBI shareholders will be held on March 15 to pass a special resolution to create, offer, issue and equity shares, to be determined by board, aggregating to Rs 8,800 crore on preferential basis to the government, the bank said in a regulatory filing.
SBI said the preferential issue of shares to the government will enable the bank to meet its common equity tier-I capital requirement under Basel-III.
The second-largest bank PNB, which is embroiled in Rs 12,646 crore fraudulent transactions, allegedly by diamond jewellers Nirav Modi and Mehul Choksi, will get Rs 5,473 crore as capital infusion.
How much capital infusion the banks will get
Bank
Funding
State Bank of India
Rs 8,800 crore
Punjab National Bank
Rs 5,473 crore
Bank of Baroda
Rs 5,375 crore
Central Bank of India
Rs 4,835 crore
Oriental Bank of Commerce
Rs 3,571 crore
Dena Bank
Rs 3,045 crore
Syndicate Bank
Rs 2,839 crore
Corporation Bank
Rs 2,187 crore
Vijaya Bank
Rs 1,277 crore
Andhra Bank
Rs 1,890 crore
Allahabad Bank
Rs 1,500 crore
Punjab & Sind Bank
Rs 785 crore
Bank of India
Rs 2,257 crore
Canara Bank
Rs 4,865 crore
Bank of Maharashtra
Rs 3,173 crore
United Bank of India
Rs 2,634 crore
Indian Overseas Bank
Rs 4,694 crore
IDBI Bank
Rs 2,729 crore
UCO Bank
Rs 5,134 crore
Note: UCO Bank received Rs 1,375 crore in December 2017.
An extraordinary general meeting of shareholders will be convened on March 16 to create, offer and allot 33,49,85,922 equity shares amounting to Rs 5,473 crore to government on preferential basis, PNB said in an exchange filing.
"In an initiative to strengthen the capital adequacy of the public sector banks, the government decided to raise its holding in these banks...
"Shareholders approval is therefore sought for issue of equity shares up to an amount of Rs 5,473 crore through preferential issue of equity shares in favour of the government," PNB said.
Bank of Baroda will get Rs 5,375 crore as government equity capital; Central Bank Rs 4,835 crore; Union Bank of India Rs 4,524 crore; Oriental Bank of Commerce Rs 3,571 crore; Dena Bank Rs 3,045 crore; Syndicate Bank Rs 2,839 crore and Corporation Bank Rs 2,187 crore.
Vijaya Bank's extraordinary general meeting will take place on Friday to seek a nod from shareholders to allot preferential shares to the government for Rs 1,277 crore capital infusion; Andhra Bank for Rs 1,890 crore (March 12); Allahabad Bank for Rs 1,500 crore, and Punjab & Sind Bank for Rs 785 crore.
Several other state-owned lenders like Bank of India have already approved the preferential issue of shares to government for Rs 2,257 crore; Canara Bank for Rs 4,865 crore; Bank of Maharashtra for Rs 3,173 crore; United Bank of India for Rs 2,634 crore; Indian Overseas Bank for Rs 4,694 crore; and IDBI Bank for Rs 2,729 crore.
UCO Bank received Rs 1,375 crore in December as government equity and is slated for another capital infusion of Rs 5,134 crore by the month end.
In October, the government had announced a mega-Rs 2.11 lakh crore capital infusion into PSBs in the course of next two years, of which Rs 80,000 crore are to be raised via issuance of bonds by the banks.
The intent of this huge capital infusion is aimed at strengthening the PSBs and to help them clean-up their balance sheets of the bad assets they have been plagued over the last several years.
Several mechanisms like referring cases of NPA accounts to National Company Law Tribunal to recover dues as well as selling bad loans to asset reconstruction companies / banks/FIs/NBFCs are also being employed by banks to get rid of the bad assets.
PSBs sat on bad loans of Rs 7.34 lakh crore at the end of second quarter ended September of the current fiscal, a bulk of which came from corporate defaulters.
Illustration: Dominic Xavier/Rediff.com