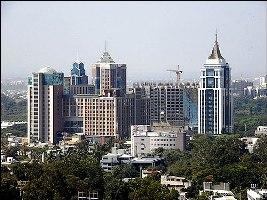 Mapletree Investments, the Singapore-based real estate development, investment and capital management company, has shown a keen interest in acquiring part of UB City, the biggest commercial property project in Bengaluru.

Mapletree wants to acquire 350,000 square feet of UB City, which is located in the central business district of Bengaluru, for around Rs 600 crore (Rs 6 billion).

Mapletree Investments has shown its interest at a time when UB Group chairman Vijay Mallya has been in advanced discussions with another global private equity investor -- Blackstone.

Mapletree Investments has around $15 billion worth of office, logistics, industrial, residential, retail and mixed-use properties across Asia and has one real estate asset in Bengaluru as part of its portfolio in India.

While the UB Group offered not to comment on the transaction with the private equity players, Mapletree said that while it does not comment on market talk, as a real estate developer and investor, Mapletree Investments will evaluate opportunities from time to time to grow its Asian portfolio, including India.

Vijay Mallya has been in discussions with quite a few private equity players from early last year in an effort to raise some resources and channel a part of that into Kingfisher Airlines, constantly demanded by the public sector banks which have an outstanding credit of Rs 7,500 crore (Rs 75 billion) towards the airline.

The sprawling UB City, developed on the 13 acres which earlier housed UB's brewery, is spread over 1.1 million square feet and was developed in a 55:45 joint venture between UB Holdings and Bengaluru-based realty developer, Prestige Constructions.

UB Holdings is not selling its towering UB Group headquarters, which is part of the total development.

In addition to premium office space to global and Indian corporations, the development encompasses 125,000 square feet of retail space dedicated to luxury brands such as Gucci, and Louis Vuitton, among others.

This move by Mapletree and Blackstone to finalise a deal with UB Holdings comes at a time when during 2012, private equity-real estate firms made 43 investments in real estate, according to Venture Intelligence analysis.

Of these, 35 transactions had an announced value of $1.1 billion.

The activity level was almost 38 per cent lower compared to the 69 investments ($2.7 billion across 54 announced deals) in 2011.

Residential projects accounted for 65 per cent of the investments (by volume) during 2012, followed by commercial projects with a 16 per cent share of the pie.

One of the major deals during last year was that of Blackstone acquiring a stake in the office space portfolio of Bengaluru-based developer Embassy Property Developments for a reported $230 million (Rs 1,300 crore).

The other large private equity real estate investments during the year included Morgan Stanley's $94 million (Rs 500 crore) investment in Supertech's township project in Noida and the same investor's $90 million commitment in Sheth Developers.
Image: UB City, Bengaluru | Photograph, courtesy, Jasvipul Chawla/Wikimedia Commons