The vacancies are learnt to be impacting the I-T department's day-to-day functioning.
Dilasha Seth reports.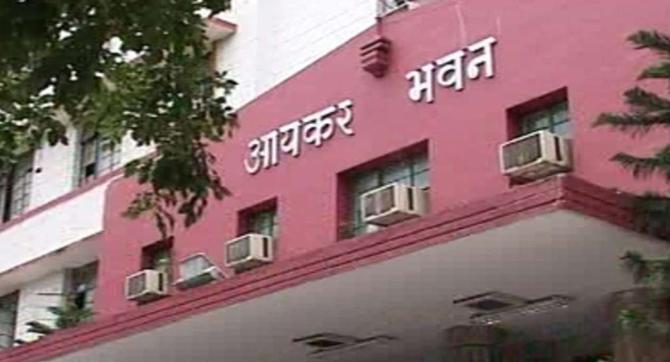 As the government battles a second wave of Covid infections at home -- which is expected to further stress revenues -- and arbitration cases abroad, the apex decision-making body for income tax is functioning with just two members besides the chairman.
Vacancies in the Central Board of Direct Taxes have not been filled despite the Appointments Committee of the Cabinet clearing names in February, exposing administrative gaps.
These names were shortlisted by the committee of secretaries in January.
The vacancies are learnt to be impacting the day-to-day functioning of the department, with even routine files pending with the Board, said income-tax officers.
This has also affected the internal posting of officers, which has been on hold for the past few months.
The CBDT is short on manpower at a time when India is facing international arbitration related to retrospective taxes including Vodafone and Cairn.
The vacant positions are of members -- administration, legislation, investigation, and I-T and revenue.
In fact, the two members currently working -- K M Prasad and S K Gupta -- retire in the next three months.
CBDT Chairman P C Mody, who received three extensions, retired from service on May 31. J B Mohapatra, a 1985-batch Indian Revenue Service officer, was on Monday given the additional charge as CBDT chairman after Mody's extended tenure ended, PTI reported.
Official sources said an order appointing Mohapatra as regular CBDT chairman could be issued in the coming days by the prime minister-headed Appointments Committee of the Cabinet, PTI added.
Gupta, member (taxpayers services and systems), is holding additional charge of legislation and was reappointed last year.
Prasad, member of audit and judicial, is handling additional charge of I-T and revenue.
Mody handled additional charge of member (investigation), member (administration) and international taxation.
The four names cleared by the Appointments Committee of Cabinet are Rashmi Saxena Sahni, Anu J Singh, Mohapatra and Anuja Sarangi.
"Postings in the department are on hold due to the CBDT vacancies. There are not enough members for the department's placement committee to function as it requires three members," said an I-T officer.
"A fully functional Board is needed especially when the country is facing challenging issues such as international arbitration, decline in revenues and also pitching for a multilateral solution on digital taxes," the I-T officer added.
At least 11 officers promoted as principal chief commissioners are yet to be posted.
It is the highest rank in taxation on a par with a member or secretary in a ministry.
More than 60 chief commissioners appointed by the Appointments Committee of Cabinet are yet to get a posting.
One of the four vacant positions is Akhilesh Ranjan's, who retired in November 2019.
Ranjan was also India's chief negotiator in international taxation matters -- a matter being handled by the chairman now.
"International taxation is being handled by the chairman, whereas earlier we had a dedicated member for that. It is imperative to appoint someone, especially when India needs to take a leadership position over digital taxation at the multilateral level," said another officer.
Officers said only matters related to giving extensions and grievances are being handled at the moment, besides faceless assessments and appeals.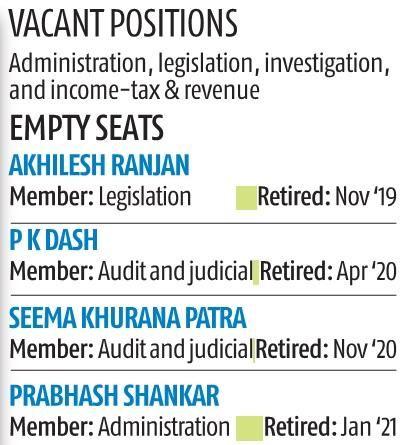 Of the four people whose names have been okayed by the Appointments Committee of Cabinet, Sahni is currently posted as principal director general, administration, and tax payers services in Delhi, while Mohapatra was principal chief commissioner of I-T, Andhra Pradesh and Telangana.
Sarangi is principal director general, vigilance in Delhi, while Anu J Singh is currently posted as principal director general, systems.
A questionnaire sent to the CBDT spokesperson did not elicit a response.
CBDT has an ambitious direct tax collection target of Rs 11.08 trillion for the current financial year, requiring a growth of 17.2 per cent.
Direct tax mop-up in FY21 was nearly 10 per cent lower than the previous year, even as it exceeded the revised estimates by almost 5 per cent.