The look out circular depends on the issuing authority and unless they ask BoI to detain a person or to stop him from boarding a plane, no action is taken.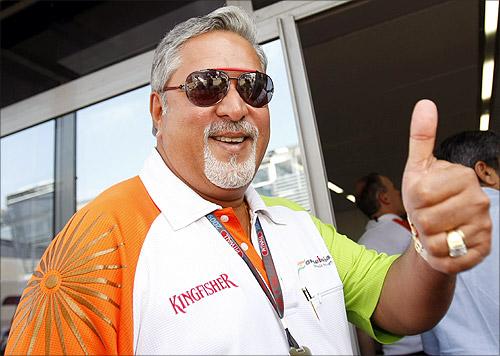 Beleaguered businessman Vijay Mallya had made at least four trips abroad before his controversial March 2 departure since a look-out notice was issued by CBI on October 16 last to know his movements.
Sources in the central security agencies said today that CBI had issued a look-out notice on October 16, 2015, six days after searches at his official and residential premises, requesting the Bureau of Immigration (BoI) to inform it about his departure and details of destination where he might be heading.
They said Mallya travelled abroad in the last week of October and returned in November while he made two trips in first and last week of December and also a trip in January besides the recent trip reportedly to London on March 2.
The look out circular depends on the issuing authority and unless they ask BoI to detain a person or to stop him from boarding a plane, no action is taken.
The sources said CBI apparently did not seek to detain him or stop him from travelling abroad and every time he travelled, the agency was duly informed about it.
When asked why CBI did not seek to impound his passport to stop his movement abroad, the agency sources said Mallya had been cooperating in the investigation by presenting himself for questioning as and when required and also providing documents required by the agency.
The CBI sources said according to a Supreme Court judgement passport of a person can only be impounded when he has been charge sheeted or a trial is pending against him.
Since he has been cooperating, there was no reason to stop him from moving abroad, they said adding that he had appeared for questioning thrice, since look out notices were issued, once here and twice in Mumbai between December 9-12, 2015.
They also said the agency was keeping a track on his movement but did not interfere as he has always returned.

CBI had registered a case against Mallya, Kingfisher Airlines, Chief Financial Officer of the airlines A Raghunathan, and unknown officials of IDBI Bank in its FIR alleging that Rs 900 crore IDBI loan was sanctioned in violation of norms regarding credit limits on the basis of complaint received from the bank.
Clarifying his position in the loan owed by KFA, Mallya in a recent statement had said after the closure of the airline, since April, 2013, the banks and their assignees have recovered, in cash, an aggregate of Rs 1,244 crore from sale of pledged shares.
"In addition an aggregate of Rs 600 crore is lying deposited in the Karnataka High Court (since July, 2013) and a further sum of Rs 650 crore belonging to United Breweries Holdings has been deposited in the Karnataka High Court since early 2014, being sums realised from the sale proceeds received by United Breweries Holdings from the sale of shares in United Spirits to Diageo Plc in July, 2013," he had said.
"Thus, the aggregate cash recovery/security available is Rs 2,494 crore," Mallya said.
The Attorney General informed the Supreme Court on Wednesday that he has been told by CBI that Mallya has left the country on March 2.
The bench issued notice to Mallya and sought his response within two weeks on pleas filed by a consortium of banks seeking direction for freezing his passport and his presence before the apex court.