Wants details of Vijay Mallya's transactions over 4 years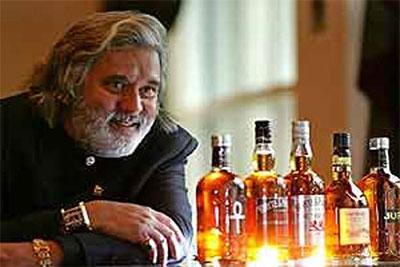 The Securities and Exchange Board of India (Sebi) has written to a UK regulator, the Financial Conduct Authority (FCA), for information on alleged fund diversion by Vijay Mallya and his associate companies from United Spirits Limited (USL).
In July, Diageo-controlled USL had said an inquiry against Mallya, former chairman, and his companies had revealed Rs 1,225 crore (Rs 12.25 billion) of fund diversion. Market regulator Sebi is probing the allegations to safeguard public shareholders in USL.

As some of the entities where the alleged fund diversion had taken place are in the UK, Sebi wrote to its regulatory counterpart there, said a source. The information sought includes bank details, annual returns filed by Mallya's associate companies, and third-party transactions.
The reported foreign beneficiaries or recipients of the fund diversion include Palmer, Force India, Formula One Watson, Continental Administrative Services, Modall Securities, Ultra Dynamix, and Lombard Wall Corporate Services. Most of these are associated with Mallya, according to an exchange filing made by USL on July 9.
FCA regulates both retail and wholesale financial services companies and has the power to investigate organisations and individuals in the UK. Sebi has asked it to examine the transactions of these companies made between October 2010 and July 2014, when most of the said diversions were reported to have taken place.
Sebi is also believed to have shared the findings of an EY audit report with FCA, which shows transactions among USL, beneficiaries, and Mallya. EY was appointed to do a forensic audit of Kingfisher Airlines in 2014-15, on behalf of the lenders. The report has been shared with all enforcement agencies probing the Mallya loan default.
According to sources, the EY report contains e-mail trails between USL, beneficiaries, and Mallya. All amounts identified have been shown in financial statements of USL or its subsidiaries as a loss on sale of USL's foreign subsidiaries. It is reported that USL admitted to diversions in the said period, said a source.
Sebi is also examining the USL-Diageo $75-million settlement deal with Mallya early this year. The regulator has directed Diageo to make additional payment to minority (small) shareholders as the Diageo open offer price does not have the bank guarantee provided by the British liquor giant to Mallya. However, Diageo says this guarantee was not part of the original agreement with Mallya.
After taking a majority stake in USL in July 2014, Diageo had sought Mallya's removal from the chairmanship on the basis of an internal inquiry that revealed several financial irregularities in the company. Mallya refused to step down. So, in February, Diageo agreed to pay Rs 515 crore (Rs 5.15 billion) as severance pay over the next four years.
Sebi had also investigated Mallya's companies after being tipped off by the UK regulator on entities belonging to Mallya allegedly round-tripping through foreign bank accounts.
Mallya, in the UK, owes Rs 6,963 crore (Rs 69.63 billion) to a group of lenders led by the State Bank of India, for loans taken to run Kingfisher. Investigative agencies are probing Mallya and associated entities.
Photograph: Reuters