The final hearing in the case at the London magistrate's court to extradite Mallya to India is scheduled later this month.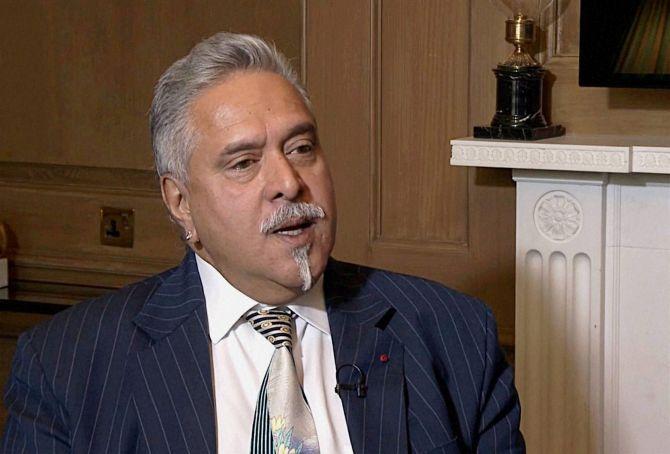 Embattled Indian businessman Vijay Mallya, having to douse multiple fires in Britain - where he is resisting extradition to India and a freezing of his assets - and in Indian courts, underlined Indian authorities' alleged "mala fide actions" were "a clear example of politically motivated abuse of power, with no legal basis whatsoever".
Mallya asked: "Does the Indian government want me to repay the public sector banks or not?" His offer to them was, if you want your money back, take the principal in full, which he maintained was around Rs 5000 crore. He asserted "the Central Bureau of Investigation (CBI) charges have no merit whatsoever".

And: "Recovery of loans is a civil matter, which has been criminalised in my case."
However, in his application to the Karnataka high court on June 22, he listed available assets which, according to him, amounted to "approximately Rs 13900 crore", and sought the court's permission to sell these under judicial supervision and, thereby, repay the creditors.
Mallya, who enjoyed non-resident Indian status but is perceived to have effectively fled India in 2016, had his passport confiscated. A magistrate's court was approached by the Indian government last year for his deportation to India to face arrest and charges.
Business Standard has come into possession the freezing of his assets order passed by the high court of England and Wales in London, which upheld an Indian tribunal's ruling to the same effect. Mallya has since applied to the court of appeal for this judgement to be set aside.
Mallya, 62, a liquor baron and still a significant shareholder in United Breweries, which produces India's bestselling beer Kingfisher, ratcheted up liabilities after the closure of his once high-flying Kingfisher Airline in 2012.
In seeking funds after the company's mounting losses in the wake of a market slowdown following the 2008-09 economic meltdown and the spike in aviation fuel prices, he provided a personal guarantee and that of United Breweries (Holdings) Ltd in respect of repayment.
This is why the lenders concerned are able to hound him personally as opposed to controllers of firms with far greater debts being immune from prosecution because they haven't provided any individual assurances.
A person close to the dispute, explaining why the government has been citing a figure of Rs 9,000 crore as Mallya's default, said, what had been added was a "notional, unapplied interest of Rs 1200 crore" and a calculation of further sums based on an order by the Debt Recovery Tribunal of applying a "notional accrual of interest of five per cent per annum".
Mallya has questioned the imposition of interest in court by saying that in 2016 at the behest of the banks the Enforcement Directorate (ED) of the Union finance ministry attached his assets. Which consequently could not be sold. Simultaneous attachment of assets and application of interest is unenforceable, he has argued.
Reports reaching London suggested the banks owed money by Mallya's failed Kingfisher Airline asked an appellate tribunal in Delhi under the Prevention of Money Laundering Act (PMLA) on Monday that the assets attached be sold and the money given to them. This was, it appears, objected to by the ED.
"The overreach of the ED misusing its vast powers under PMLA is self-evident," said Mallya.
The final hearing in the case at the London magistrate's court to extradite Mallya to India is scheduled later this month.
It will not be surprising if his lawyers in their closing argument re-emphasise discrimination against him by way of leniency being shown and therefore losses being suffered by state-owned banks under an amended Insolvency and Bankruptcy Code, in contrast to the uncompromising pursuit of Mallya.
It has not gone unnoticed that last week, Indian banks accepted a price of Rs 50.5 billion for Alok Industries from Reliance Industries-JM Financial.
This was a mere 17 per cent of the lenders' claims of Rs 29,500 crore. The General Secretary of the All India Bank Officers' Confederation D T Franco is said to have stated "lenders to Alok Industries will have to take a deep haircut of 83 per cent".
In 2013, Mallya deposited Rs 1,280 crore with the Karnataka high court, and has thereafter suggested interest accruing from this be utilised to settle dues to former KFA employees.
Officers of the Indian high commission in the UK have been monitoring the Mallya cases in English courts since these were instituted over a year ago. Despite several attempts to reach it, it was unavailable for a comment on the businessman's statement.
Photograph: PTI Photo